Description
"I am thankful for all the dedicated professionals and community volunteers working to bring the day closer when all America's children are free from violence. Together, we can all make a difference."
Caren Harp
OJJDP Administrator
Child Abuse Prevention
The Office of Juvenile Justice and Delinquency Prevention is working to prevent child abuse and mitigate its negative impact through partnerships, programs, and training and technical assistance. According to a report published by the Department of Health and Human Services (HHS), 3.5 million children were subject to at least one maltreatment report in fiscal year 2017. In that same year, it is estimated that 1,700 children in the United States died due to abuse and neglect, according to the National Child Abuse and Neglect Data System.
Child Abuse Prevention Month
April is National Child Abuse Prevention Month, a time to encourage action to improve the safety and well-being of youth. This month, OJJDP is partnering with the HHS Administration for Children and Families' Children's Bureau, the National Children's Alliance, and OJJDP's National Mentoring Resource Center to promote community partnerships and support efforts to address child abuse and neglect.
The Federal Child Abuse Prevention and Treatment Act (CAPTA) (42 U.S.C.A. § 5106g), as amended and reauthorized by the CAPTA Reauthorization Act of 2010, defines child abuse and neglect, at a minimum:
"Any recent act or failure to act on the part of a parent or caretaker which results in death, serious physical or emotional harm, sexual abuse or exploitation; or an act or failure to act which presents an imminent risk of serious harm."
The definition of child abuse varies by state. Within the minimum standards set by CAPTA, each state establishes its own definitions of child abuse and neglect. Most states recognize the four major types of maltreatment: physical abuse, neglect, sexual abuse, and emotional abuse.
OJJDP Partnerships
Children's Bureau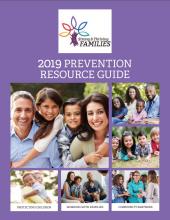 Each April, the Children's Bureau funds the National Child Abuse Prevention Month initiative website.
Join OJJDP in promoting the "WE CAN" campaign. The WE CAN — Work to End Child Abuse and Neglect — campaign offers a collection of social media posts that help spread the message that "WE CAN" all take concrete actions to support parents and families and end child abuse and neglect.
National Children's Alliance
In 2018, OJJDP awarded nearly $18 million under its Victims of Child Abuse grant programs, which support child advocacy centers and multidisciplinary teams of professionals who respond to the maltreatment of children.
The OJJDP-supported National Children's Alliance has launched the multi-year SHINE Campaign, which lifts up the voices of survivors and empowers local communities to better serve victims of child abuse. The effort aims to change the conversation on child sexual abuse to give individuals an accessible way to become child advocates and support the work of child advocacy centers.
National Mentoring Resource Center
OJJDP's National Mentoring Resource Center (NMRC) provides access to no-cost training and technical assistance, mentoring tools, and program and training materials. NMRC is offering special webinars, a blog, and newsletter feature that highlight creative partnerships between mentoring organizations and child welfare agencies—partnerships that have proven effective in supporting youth and strengthening families.
To receive these updates, sign up for the NMRC e-newsletter here.
OJJDP Programs
OJJDP supports the following programs:
Children's Advocacy Centers (CACs), which coordinate the investigation, treatment, and prosecution of child abuse cases by utilizing multidisciplinary teams of professionals involved in child protective and victim advocacy services, law enforcement and prosecution, and physical and mental health. There are 881 CACs nationwide, 334,626 children helped last year and more than 1.9 million people received child abuse prevention training, according to the NAC website.
Internet Crimes Against Children Task Force Program (ICAC program) helps state and local law enforcement agencies develop an effective response to technology-facilitated child sexual exploitation and Internet crimes against children. The ICAC program is a national network of 61 coordinated task forces representing over 4,500 federal, state, and local law enforcement and prosecutorial agencies.
National Center for Missing & Exploited Children (NCMEC) is an information clearinghouse and national resource center on issues related to victims, missing and exploited children and operates a national toll-free hotline. In 2018 there were 18.4 million reports to NCMEC's CyberTipline and 1,600 attempted abductions, according to NCMEC's website.
State and local Court Appointed Special Advocate Programs (CASA) seeks to ensure that abused and neglected children receive high-quality representation in dependency court hearings. More than 260,000 children have a CASA volunteer speaking up for their best interests each year and more than 85,000 CASA volunteers help change children's lives daily, according to CASA's website.
OJJDP Training and Technical Assistance
OJJDP provides training and technical assistance to professionals involved in investigating, prosecuting, and treating child abuse. In 2018, OJJDP awarded $10.6 million to the National Court Appointed Special Advocate Association through the OJJDP FY 18 Court-Appointed Special Advocates (CASA) Membership and Accreditation Program and Training and Technical Assistance. This program ensures that CASA volunteers are available to represent abused and neglected children and that they receive high-quality representation in dependency court hearings.
OJJDP provided $750,000 under the VOCA Training and Technical Assistance for Child Abuse Prosecutors program to enhance the effectiveness of the attorneys and others who investigate and prosecute child abuse cases. Access the provider directory for a network of OJJDP-funded TTA providers that deliver targeted support to policymakers and practitioners.
Additional Resources
Child Physical Abuse: A Guide to the CAC Response View resources and insights from the National Children's Alliance workgroup of Children's Advocacy Centers that discuss evidence-based interventions to meet the specific needs of physical abuse victims.
Enhanced Resource Guidelines: Improving Court Practice in Child Abuse and Neglect Cases Developed with support from OJJDP, this publication is recommended for use by judges and court professionals as a tool to enhance court practice in child abuse and neglect cases.
View the OJJDP publications listing where you can find materials from the following:
Hear from the Administrator
OJJDP Administrator Caren Harp highlights National Child Abuse Prevention Month in this video message.