"The Department of Justice is proud to honor the law enforcement officers and private citizens who showed courage, presence of mind, and an unwavering commitment to protecting children from dangerous predators. We thank these heroes, whose actions made it possible to bring to justice those who attempted to exploit our most innocent and vulnerable citizens."
— Attorney General William P. Barr
---
For the past 36 years, the Department of Justice has observed National Missing Children's Day by hosting an awards ceremony to pay tribute to the courageous and compassionate individuals who have made extraordinary efforts to protect children and bring predators to justice. Due to COVID-19, we are unable to hold a ceremony this year. This site serves as a virtual commemoration of the 2020 Missing Children's Day observance.  
Learn about the 2020 awardees, the poster contest and winner, and read the OJP Blog commemorating Missing Children's Day. Also access publications and other resources.
Justice Department Observes National Missing Children's Day
"The Office of Justice Programs is pleased to recognize the remarkable citizens selected to receive this year's National Missing Children's Day awards. These brave individuals – nine law enforcement officers, a vigilant bus driver and one talented young artist – are being honored for their extraordinary efforts to find and recover missing children and for raising awareness of the dangers encountered by our nation's young people. The courage and compassion of these everyday heroes remind us that no child in America will have to face adversity alone. We regret that we are unable to show our appreciation in person, but we could be no more grateful, nor more inspired, if we were all in a room together. Our communities are safer, and our country is stronger, thanks to their incredible work."
— OJP Principal Deputy Assistant Attorney General Katharine T. Sullivan
"We honor these outstanding award recipients for their extraordinary diligence and presence of mind while acting to protect the youngest and most vulnerable among us. When time was of the essence, these exceptional men and women responded with quick action and clear thinking. Thanks to their vigilance and an uncommon sense of moral and civic responsibility, several children who were in imminent danger were taken out of harm's way and returned to safety, and their predators have been brought to justice. We are awed by their selflessness and inspired by their example. We extend our congratulations and offer our gratitude to this remarkable group of people."
— OJJDP Administrator Caren Harp
---
National Center for Missing & Exploited Children
The  National Center for Missing & Exploited Children (NCMEC) is a critical partner to OJJDP, serving as a resource to help find missing children, reduce child sexual exploitation, and prevent child victimization. Since its founding in 1984, NCMEC has helped recover more than 319,000 missing children.
"Each year, in partnership with the Department of Justice, we pause to remember the children who are still missing and renew our efforts to find them. It is an event I wish we didn't need to have. But, our mission continues and we will never stop looking until all who are missing have come home."
— NCMEC President and CEO John F. Clark
National Missing Children's Day Awards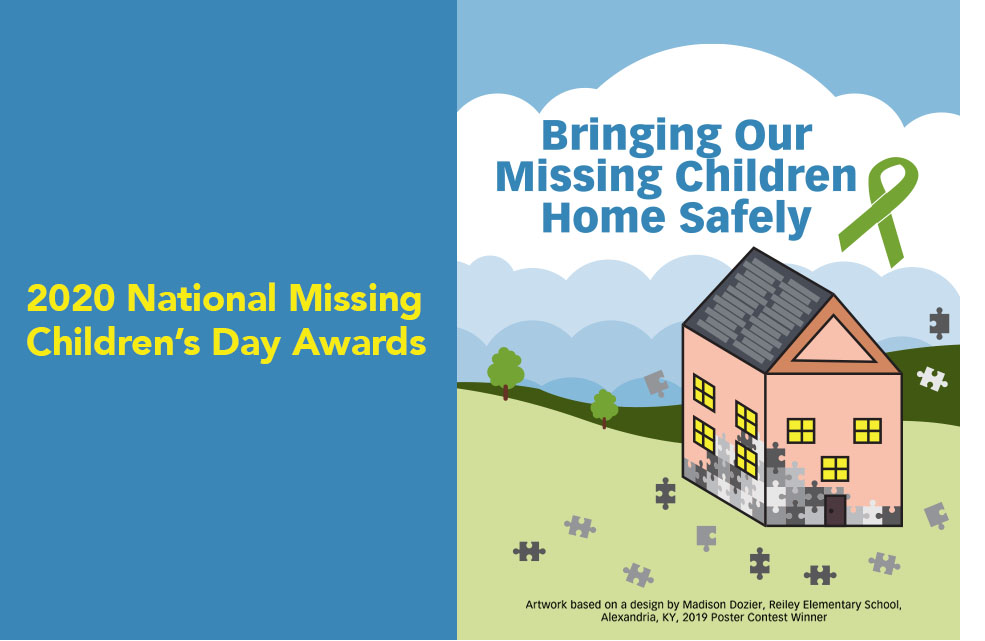 The Department of Justice is honoring nine law enforcement officers and a private citizen  for their efforts to find missing children and bring child sexual predators and child pornographers to justice.