Deputy Administrator Discusses 2020 Programs at National Association of Counties Legislative Conference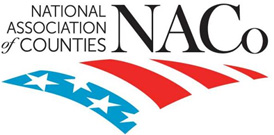 On February 29–March 4, 2020, the National Association of Counties (NACo) held its Legislative Conference in Washington, DC. On the conference's opening day, Deputy Administrator Chyrl Jones joined representatives of other Department of Justice grantmaking agencies in a panel discussion on federal priorities, policy changes, and programs to deter crime and protect public safety. Other participants in the panel discussion, "Federal Policy and Programs Outlook," included Tracey Trautman, then-Acting Director of the Bureau of Justice Assistance, and Cory Randolph, Deputy Director for Grants at the Office of Community Oriented Policing Services.
Deputy Administrator Jones provided an overview of OJJDP's fiscal year 2020 funding programs. She highlighted OJJDP's support of mentoring—including mentoring for youth in the juvenile justice system and youth impacted by the opioid crisis—and programs to support successful reentry for youth offenders, services for child victims of sex trafficking, juvenile drug treatment courts, and family drug courts. In addition, Ms. Jones encouraged county agencies to use OJJDP's training and technical assistance resources, Statistical Briefing Book, and Model Programs Guide.
Established in 1935, NACo advocates for county priorities in federal policymaking and enhances public understanding of county government. The association serves nearly 40,000 county elected officials and 3.6 million county employees.
OJJDP's State Relations and Assistance Division Holds Audit Training
On February 10–13, 2020, the State Relations and Assistance Division (SRAD), in collaboration with the Government Audit Training Institute, provided an audit training for division staff. SRAD offers guidance and specialized assistance to ensure that states comply with the core requirements of the Juvenile Justice and Delinquency Prevention Act. The division also conducts audits to assess the effectiveness of states' compliance monitoring systems.
Focusing on performance and compliance auditing, the training provided information about the phases of auditing—planning, fieldwork, and reporting—as well as techniques for conducting each phase. In addition, participants learned about methods for collecting, documenting, and ensuring the reliability of different types of evidence that support findings and recommendations resulting from audits. The training also included an overview of the Generally Accepted Government Auditing Standards (GAGAS). The standards include independence, transparency, accountability, and quality.
 "The training was a critical step toward ensuring that SRAD staff are trained to conduct monitoring and compliance field audits with fidelity and consistency using GAGAS," said Dr. TeNeane Bradford, who heads the division. "Moving forward, staff will continue to receive quality training that will yield impactful results. These results will capture an accurate picture of state monitoring systems and inform OJJDP about their funding and training and technical assistance needs."
Notice About Missing Children's Day and COVID-19
The U.S. Department of Justice is closely monitoring the situation surrounding the Coronavirus Disease of 2019 (COVID-19). We remain committed to observing National Missing Children's Day on Wednesday, May 20. However, we will not hold an in-person ceremony this year. As soon as a final decision is reached on the format used for this recognition, we will be sure to communicate that information to you. Thank you and stay safe.
Additional Video Recordings From OJJDP Training Conference Available Online
At OJJDP's National Training Conference in September 2019, approximately 200 participants engaged in interactive discussions, panels, and workshops to enhance implementation of OJJDP's Title II Formula Grants program and support compliance with the core requirements of the Juvenile Justice and Delinquency Prevention Act. The conference was organized by the Office's State Relations and Assistance Division.
OJJDP has made available video recordings of conference sessions and interviews with participants on the Office's State Relations and Assistance Division National Training Conference webpage. The following recordings were recently added to the webpage:
National Law Enforcement Training on Child Exploitation Planned for June

Since its inception in 1998, OJJDP's Internet Crimes Against Children (ICAC) Task Force program has helped state and local agencies to develop effective, sustainable responses to online child victimization, including responses to the online sharing of child sexual abuse images. The program has increased the capacity of thousands of communities across the country to combat Internet crimes against children.
The ICAC Training and Technical Assistance program was established to provide ICAC task forces and their affiliates with the training and technical assistance they need to conduct effective investigations and prosecutions. As part of this commitment, OJJDP and its Department of Justice partners host an annual National Law Enforcement Training on Child Exploitation. The training shares the latest techniques on how to combat child exploitation in the ever-changing Internet environment. The training also offers an opportunity for ICAC task forces and their affiliates to share information and improve collaboration to stop technology-facilitated crimes against children.
The 2020 training, still in the planning stages, is scheduled for June in Atlanta, GA. Additional information will be made available in the near future. More than 1,600 attendees from 495 agencies and 61 ICAC task forces participated in last year's training.
SchoolSafety.gov Launched To Help Educators Prepare for Threats

The Trump Administration recently launched the federal school safety clearinghouse website
SchoolSafety.gov
. The site is a resource for the American public, primarily K–12 school administrators, to access free information, guidance, best practices, and tools to promote school safety. The site includes:
A school safety readiness tool, an assessment that assists users in evaluating their school's efforts across 10 foundational elements of school safety. After completing the assessment, users are provided an action plan with task prioritization, options for consideration, aligned resources, and grant opportunities specific to individual needs.
A secure information-sharing platform for designated school personnel to share school safety ideas, practices, plans, and tactics in a protected environment.
Resources to help schools create and maintain a safe learning environment.
Three Practices Rated "Effective" by CrimeSolutions.gov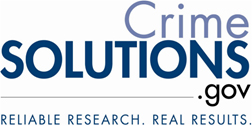 CrimeSolutions.gov—a National Institute of Justice resource that informs practitioners and policymakers about what works, what doesn't, and what's promising—has rated family-based treatment "effective" in decreasing the rate of rearrest in adolescents. Family-based interventions are designed to decrease adolescent antisocial behaviors by making positive changes in their familial and social environments. Family-based treatment was rated "promising" for improving mental health and behavioral health, decreasing substance use and abuse, and improving school performance.
CrimeSolutions.gov also rated school-based interventions to reduce exclusion as "effective." School exclusion (more commonly known as suspension and expulsion) is broadly defined as a disciplinary measure imposed in reaction to students' misbehavior. This practice comprises school-based programs that seek to decrease the prevalence of exclusion and thereby reduce the detrimental effects that suspension or expulsion from school may have on students' learning outcomes and future training or employment opportunities.
Finally, cyberbullying prevention and intervention programs have been rated "effective" for reducing cyberbullying perpetration and victimization. This practice encompasses intervention and prevention programs that are designed to reduce or prevent negative online behaviors among children ages 9 to 19. Programs include individual-level, multilevel systemic, and universal or whole-school approaches.