The commercial sexual exploitation of children encompasses a range of crimes and activities involving sexual abuse or exploitation for financial benefit or in exchange for anything of value. Despite current efforts, the threat of child sexual exploitation remains very real; it can occur in the home, on the street, over the Internet, in the United States, or overseas.
OJJDP is dedicated to combating commercial sexual exploitation and addressing the unique needs of young victims. Fiscal year (FY) 2019 grants of approximately $4 million awarded under the Specialized Services and Mentoring for Child and Youth Victims of Sex Trafficking and Sexual Exploitation program are helping organizations develop or enhance their mentoring capacity, facilitate outreach efforts, and increase the availability of direct services for this vulnerable population.

Through force, fraud, coercion, and sexual exploitation of minors, traffickers rob countless individuals of their dignity and freedom, splinter families, and threaten the safety of our communities.

—President Donald J. Trump,
Proclamation on National Slavery and Human Trafficking Prevention Month, 2020
An additional $2.5 million awarded under the Strengthening Investigative Tools and Technology for Combating Child Sexual Exploitation program is facilitating the development, refinement, and advancement of investigative tools, methods, and technologies that address child pornography, exploitation, and sex trafficking.
In FY 2019, OJJDP awarded $3.5 million to the National Center for Missing & Exploited Children via an interagency agreement with the Office for Victims of Crime to assist with (1) the review of CyberTipline reports related to child sex trafficking, (2) the response to information regarding the location of missing children at high risk of or involved in trafficking, and (3) training and technical assistance on trauma-informed responses to victims.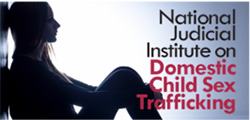 OJJDP supports the National Council of Juvenile and Family Court Judges' National Judicial Institute on Domestic Child Sex Trafficking. Held several times a year, the institute helps judicial officers better understand the applicable laws and legal considerations involving trafficking victims, how to identify trafficked and at-risk children, and how to connect these youth to appropriate services. In FY 2019, the OJJDP-sponsored National Criminal Justice Training Center offered a 3-day training to help law enforcement officials understand, recognize, and investigate cases involving child sex trafficking and exploitation.
Youth Collaboratory, with funding from OJJDP and in partnership with the Center for Combating Human Trafficking at Wichita State University, provides training and technical assistance to organizations that are working with young victims of commercial sexual exploitation and domestic sex trafficking. With support from OJJDP, Youth Collaboratory has developed a toolkit for youth service providers that provides information about emerging research and best practices along with implications for practice at the individual, program, and community levels.
In 2019, OJJDP released findings of a three-phase study that assessed the impact of safe harbor laws on the commercial sexual exploitation of children. Safe harbor laws are designed to protect young victims from punitive sanctions and refer them instead to supportive services.
Resources:
Read President Trump's executive order creating a position within the Domestic Policy Council to work on issues related to combating human trafficking. The order was signed during a January 31, 2020, White House summit on the issue.
To learn more about OJJDP programs that address the commercial sexual exploitation of children, visit the Office's website.
OJJDP's online Model Programs Guide provides information about programs to help children exposed to violence and victimization. The guide also includes reviews of research literature on the commercial sexual exploitation and sex trafficking of children. Access a comprehensive list of services for trafficking survivors on the OJJDP website.
Visit the Department of Justice's Human Trafficking webpage to learn more about legislation, resources, and initiatives aimed to prevent and end trafficking.