OJJDP Leadership Participates in Training for Directors of Juvenile Correctional Facilities

On January 11–14, 2020, the Council of Juvenile Justice Administrators offered an OJJDP-funded training in San Diego, CA, for administrators of state and local secure juvenile justice facilities. OJJDP Administrator Caren Harp offered introductory remarks on the training's second day. Later that day, Administrator Harp and Associate Administrator TeNeane Bradford led a session on the Juvenile Justice Reform Act of 2018 and OJJDP's Title II Formula Grants program.
The training included presentations and workshops on a range of other topics, including youth's readiness for reentry, correctional education, human trafficking, strategies to maintain safety and security, the multigenerational workforce, staff wellness, the engagement and empowerment of families, the reduction of racial and ethnic disparities, and positive youth development. As part of a 6-month followup process, which will include a webinar series and monthly conference calls, participants will develop an action plan to address an emerging issue or challenge facing their facility.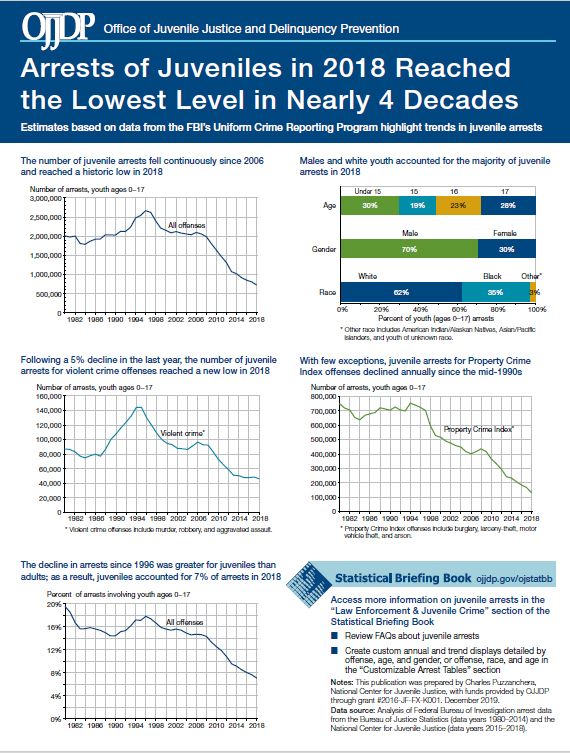 Data Snapshot Shows Juvenile Arrests at Lowest Level in Four Decades
The OJJDP Statistical Briefing Book has added a Data Snapshot that provides a look at trends in juvenile arrests. The Snapshot draws on data from the FBI's Uniform Crime Reporting Program.
The number of juvenile arrests fell continuously since 2006 and reached an historic low in 2018. The decline in arrests since 1996 was greater for juveniles than adults; as a result, juveniles accounted for 7 percent of arrests in 2018.
Males and white youth accounted for the majority of juvenile arrests in 2018.  Following a 5-percent decline in the past year, the number of juvenile arrests for violent crime offenses reached a new low in 2018. With few exceptions, juvenile arrests for Property Crime Index offenses declined annually since the mid-1990s.
Access the full list of Data Snapshots on the Statistical Briefing Book site.
OJJDP Statistical Briefing Book Updated
Developed for OJJDP by the National Center for Juvenile Justice, the Statistical Briefing Book (SBB) provides answers to the most commoly asked questions about juvenile offending, victimization of juveniles, and involvement of youth in the juvenile justice system. In addition, the data analysis and dissemination tools available through SBB give users quick and easy access to detailed data on a variety of juvenile justice topics. Following are recent updates:
Restorative Justice Working Group Meets With OJJDP Leadership
On January 6–7, 2020, members of OJJDP's Restorative Justice Working Group met with Administrator Caren Harp and OJJDP staff in Washington, DC, to move forward on developing OJJDP guidance materials that will help jurisdictions implement effective restorative justice programs for victims, juvenile offenders, and communities.
Restorative justice focuses on balancing the interests and needs of victims/survivors, offenders, and communities. It also holds offenders individually accountable not only to their victims, but also to the community at large—often through face-to-face meetings and reparative actions such as financial restitution to victims, the repair of victims' damaged property, or work for the betterment of the community.
During its 1.5-day meeting, the group discussed a range of items and topics to be included in the guidance materials, including a glossary of terms and acronyms, reviews of the research literature and pertinent legislation, guiding principles of restorative justice, core practices, strategic goals, implementation, and performance measures.
Video Recordings From OJJDP's National Training Conference Now Available Online
OJJDP's National Training Conference, held on September 24–26, 2019, in Kansas City, MO, offered a wealth of information and resources to help states and territories prevent delinquency and improve the juvenile justice system. Approximately 200 participants engaged in interactive discussions, panels, and workshops to enhance implementation of OJJDP's Title II Formula Grants program and support compliance with the core requirements of the Juvenile Justice and Delinquency Prevention Act. The conference was organized by the Office's State Relations and Assistance Division.
Video recordings of four conference sessions are now available on the OJJDP website: Administrator Caren Harp's welcoming remarks and update on the Juvenile Justice Reform Act of 2018 (JJRA), a discussion of the JJRA's new requirements regarding youth waived to adult court, a walk-through of the updated features and content of the Office's online Compliance Monitoring Tool, and a presentation on OJJDP's redesigned website. Also accessible online is a video recording of interviews with youth members of state advisory groups.
Additional recordings of conference sessions and interviews with participants will be added to the OJJDP website as they become available.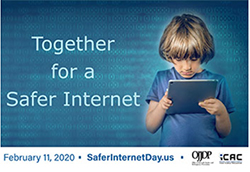 Internet Crimes Against Children Task Forces Promote Safer Internet Day
OJJDP's Internet Crimes Against Children (ICAC) Task Forces highlighted Safer Internet Day, held on February 11, 2020. Safer Internet Day is an awareness-raising campaign to promote the safe and respectful use of digital technology, especially among children and youth. The ICAC Task Force Program promoted Safer Internet Day by offering videos and resources for learning and teaching how to safely use the Internet. Learn more about the OJJDP-funded ICAC Task Force Program, which helps law enforcement investigate and prosecute online child victimization and Internet crimes against children.
National Center for Juvenile Justice Launches Website To Improve Collection and Analysis of Juvenile Justice Data
The National Center for Juvenile Justice, the research division of the National Council of Juvenile and Family Court Judges, has developed a new website, Fundamental Measures for Juvenile Justice. The site presents model data elements and methods for quantifying critical components of the juvenile justice system. The measures were developed as part of OJJDP's Juvenile Justice Model Data Project with input from organizations representing all sectors of juvenile justice—from law enforcement through the court process and juvenile corrections. The site is designed to enhance national juvenile justice data through uniform and systematic improvement of local data collection, use, and analysis. Site users can conduct searches by keyword, decision point, measures, and data elements.
Percentage of Youth in Juvenile Facilities Who Report Being Sexually Victimized Declines
In 2018, an estimated 7.1 percent of youth in juvenile correctional facilities reported being sexually victimized during the prior 12 months, down from 9.5 percent in 2012, according to a recently released Bureau of Justice Statistics (BJS) report.
From 2012 to 2018, the percentage of youth who reported forced or coerced sexual victimization involving another youth declined from 2.5 percent to 1.9 percent, and the percentage of youth who reported sexual misconduct by facility staff declined from 7.7 percent to 5.8 percent.
BJS defines sexual victimization in a juvenile facility as any sexual activity with facility staff, or any forced or coerced sexual activity with another youth. Force or coercion includes physical force, threat of force, or other forms of pressure or coercion, such as threatening to get the youth in trouble; giving the youth money, favors, protection, or special treatment; or repeatedly asking the youth to engage in sexual activity. The findings are based on a survey that was completed by 6,049 youth in 327 juvenile facilities, including at least one juvenile facility in every state and the District of Columbia.