Mentoring Practitioners and Advocates Gather in Washington, DC, for National Summit
On January 29–31, 2020, the National Mentoring Summit brought together youth mentoring organizations along with government, civic, research, and corporate leaders to evaluate best practices, review new research, and chart the future of the mentoring field. The summit is held every January as part of National Mentoring Month.
Organized by MENTOR: The National Mentoring Partnership, the event featured more than 90 workshops that showcased exemplary program models, collaborations, research, and innovations that have positive implications for strengthening the mentoring field. The event included six tracks that highlighted specific areas of interest—advocacy, philanthropic partnerships, culturally specific practices, research, supporting the mentoring match, and nonprofit management.
Katharine T. Sullivan, Principal Deputy Assistant Attorney General for the Office of Justice Programs, offered remarks on January 30. "I am, and have always been, a huge believer in the power of mentoring," she said.  "What better way to ensure that young people are taking the right path than to connect them to people who have successfully navigated that same path?  When done right, it's as good a prevention tool as any I know of, which is why OJP [the Office of Justice Programs] has supported mentoring programs for more than two decades."

From teachers and coaches to business owners and faith and civic leaders . . . mentors come from all walks of life and are united in their shared goal of improving the lives of America's youth.

—President Donald J. Trump,
Presidential Message on National Mentoring Month
Before the summit, OJJDP offered a training session for its new mentoring grantees on federal requirements and best-practice standards. Topics covered in the session included technical assistance available through OJJDP's National Mentoring Resource Center, the special conditions in OJJDP grant awards related to mentor screening and background checks, strategies for tracking program implementation and quality, and assessing program outcomes.

The OJJDP New Grantee Orientation laid the foundation for someone new stepping into the role of being a grantee. The speakers gave me confidence that I am not alone in this, and the resources that were provided will help me pave the way to effective change.

—Christina Sanchez, Program Manager, The Governor's Prevention Partnership [Connecticut]

Making connections and having open discussions with other grantees [was] a great source for learning what works best, what common obstacles we face, and brainstorming solutions.

—Veronica Stancliff, Support Specialist, Big Brothers Big Sisters Eastern Shore

The main resource that I have taken away from today is the
National Mentoring Resource Center
website. There are so many resources available that we were unaware of until today.

—Jackie Young, Child Welfare Specialist, Community Youth Network
In fiscal year 2019, through its Mentoring Opportunities for Youth initiative, OJJDP awarded more than $81 million in grants to 33 organizations across 21 states to support mentoring programs for youth. The Office also awarded $2 million to continue the operations of the National Mentoring Resource Center. Last year alone, the center provided training and other support to 362 school-, community-, and faith-based mentoring programs that served more than 79,000 youth nationwide, thanks to funding from OJJDP.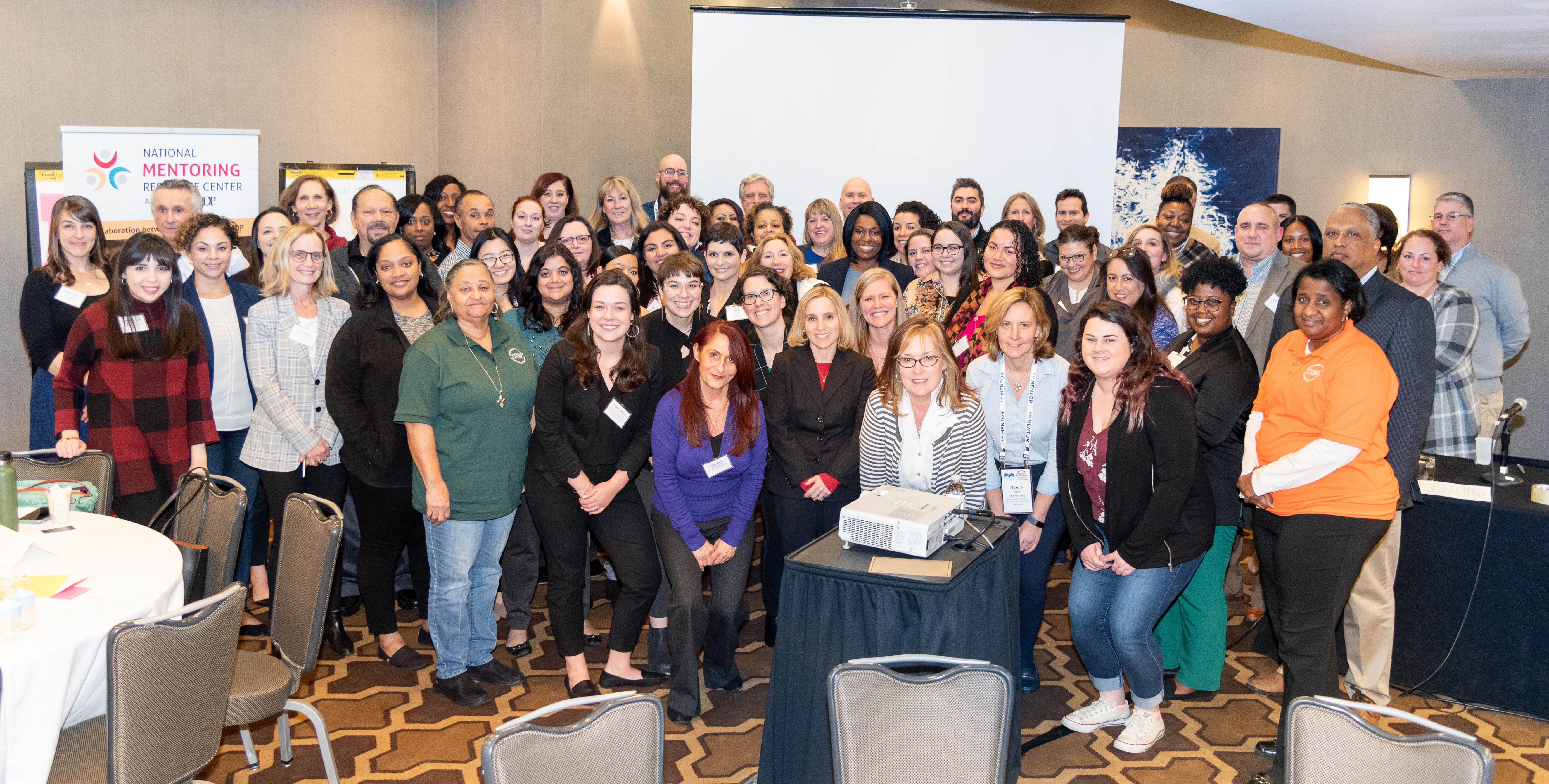 On January 28, OJJDP offered a comprehensive training session for its new mentoring grantees on federal requirements, best practices, and training and technical assistance resources. More than 60 representatives of mentoring organizations registered for the training. Pictured are OJJDP staff and the session participants.
Resources:
To learn more about OJJDP's mentoring programs and services, visit the Office's website. For more information about what works in mentoring as well as training and technical assistance available through OJJDP's National Mentoring Resource Center, read "Stakeholder's Corner: Improving the Quality and Effectiveness of Mentoring" in this issue.
OJJDP's Model Programs Guide contains information about evidence-based juvenile justice and youth prevention, intervention, and positive youth development programs. The guide offers information about 48 mentoring programs as well as a review of the research literature on mentoring. For more information about mentoring-related research, programmatic grants, training and technical assistance, and publications, visit the OJJDP website.
The National Criminal Justice Reference Service has released a special feature on mentoring, which provides access to federal and federally funded publications and online resources related to mentoring youth.