OJJDP's State Relations and Assistance Division Holds National Training Conference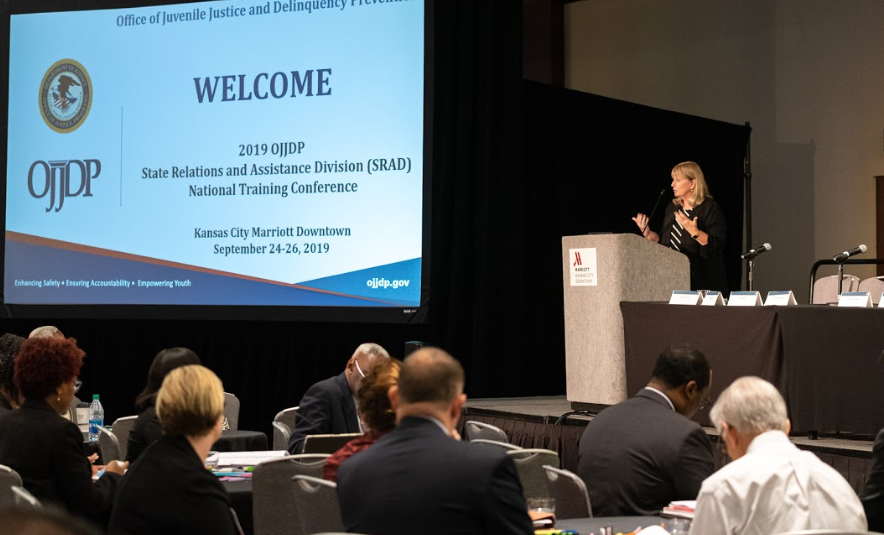 Administrator Harp addresses conference attendees.
OJJDP's National Training Conference, held on September 24–26, 2019, in Kansas City, MO, offered a wealth of information and resources to help states and territories prevent delinquency and improve the juvenile justice system.
Approximately 200 participants engaged in interactive discussions, panels, and workshops to enhance implementation of OJJDP's Title II Formula Grants program and support compliance with the core requirements of the Juvenile Justice and Delinquency Prevention (JJDP) Act. Participants included representatives from state agencies designated to oversee members of state advisory groups, OJJDP leadership and staff, staff from the Center for Coordinated Assistance to States, and federal partners. The conference was organized by OJJDP's State Relations and Assistance Division (SRAD).
OJJDP Administrator Caren Harp kicked off the conference with an update on the Juvenile Justice Reform Act (JJRA) of 2018. Administrator Harp also announced the release of An Overview of Statutory and Regulatory Requirements for Monitoring Facilities for Compliance with the Deinstitutionalization of Status Offenders, Separation, and Jail Removal Provisions of the Juvenile Justice and Delinquency Prevention Act. This document is intended to assist states in their execution of the Formula Grants program. Administrator Harp and OJJDP staff later led special sessions and state discussions on key JJRA provisions, including new expectations regarding juveniles handled in adult court, the use of the valid court order exception, and an effective system of monitoring for compliance with the JJDP Act.
OJJDP unveiled a new online resource—webpages for each state and territory that enable state agency staff to view Title II funding determinations, learn whether a state or territory participates in the Formula Grants program, and access 3-year state plans. The webpages also provide compliance information, disproportionate minority contact (DMC) data, performance measures, and a list of active OJJDP formula and discretionary awards for each state and territory.

[Through this conference] I've not only been able to find out things that have helped my state move forward and help kids and their families, but to help me . . . grow professionally.

—Joseph Vignati, Chair
Federal Advisory Committee on Juvenile Justice
OJJDP also offered a "walkthrough" of the updated features and content of the Office's online Compliance Monitoring Tool, which had been under revision to incorporate OJJDP policy changes. The tool allows states to upload data on compliance with JJDP Act requirements to a central repository, and its comprehensive questionnaire elicits details about each state and territory's violations or use of standard exceptions and automatically calculates annual compliance rates. In addition, OJJDP provided a basic training for new juvenile justice specialists, compliance monitors, and DMC coordinators. The training focused on roles and responsibilities for each position and offered an overview of the JJDP Act and Formula Grants program.
To connect Title II-related work within the Office, OJJDP's Federal Advisory Committee on Juvenile Justice (FACJJ), composed of 14 state advisory group members, shared their current priorities, which include facilitating compliance with the JJRA, addressing the needs of at-risk youth in rural areas, and developing an online gateway to information, resources, and training for practitioners in the juvenile justice field. FACJJ is responsible for making recommendations on juvenile justice issues to the President, Congress, and OJJDP.
To highlight support available for states and territories through other federal agencies, representatives of the Department of Health and Human Services' Runaway and Homeless Youth program and the Department of Education's Title I program discussed funding opportunities and federal-state partnerships available through their agencies. The White House's Office of National Drug Control Policy shared information about how to access resources to address challenges associated with substance abuse in rural communities, including unemployment and difficulty in accessing medical care and social services.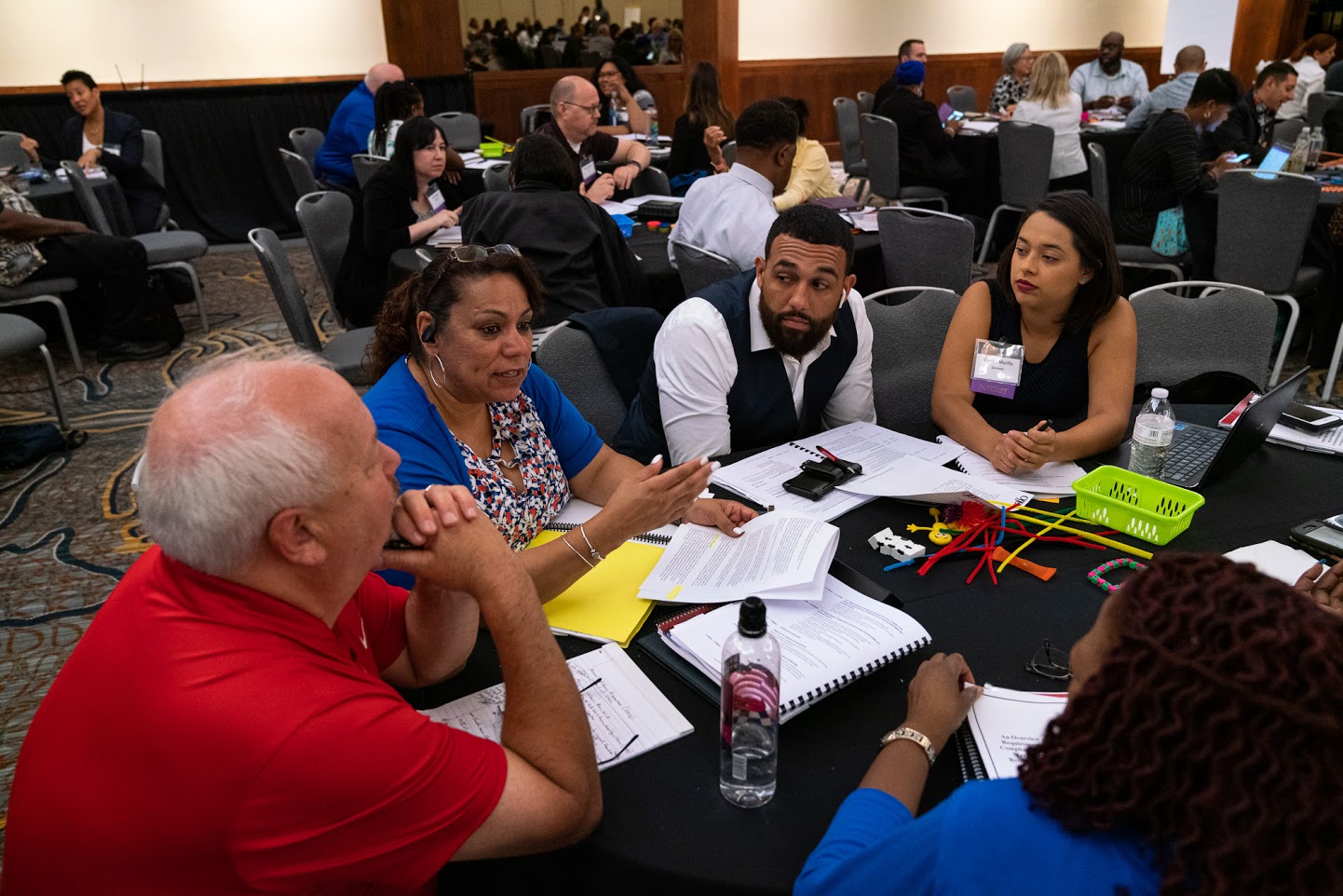 Breakout sessions facilitated networking and peer learning among attendees. Conference sessions explored local examples and ideas for improving juvenile justice policy and practice in a range of areas. Topics included community partnerships to effectively put DMC reduction plans into action, support of territories in implementing Title II and the core requirements, the use of data to drive decisionmaking, the development of strong infrastructures for state advisory groups, outreach to tribal communities, youth engagement, trauma-informed systems of care, and restorative and balanced justice practices.
Conference topics were determined through a review of past training feedback, suggestions from a field advisory team, and SRAD and OJJDP leadership discussions. Workshops helped OJJDP determine practitioners' training and peer networking needs, capture their thoughts on the new JJRA provisions, and gather feedback on topics of special interest to OJJDP, such as youth and family engagement.
Concurrent with the national training conference, OJJDP convened an in-person meeting of FACJJ. For information on the FACJJ meeting, read "News From the Federal Advisory Committee on Juvenile Justice" in this issue.

Resources:
To learn more about compliance with the JJDP Act's core requirements and program areas supported by the Formula Grants program, visit the OJJDP website.
View OJJDP's 2018 JJRA Redline document, which allows users to closely track changes implemented by JJRA.
Read OJJDP's fact sheet Key Amendments to the Juvenile Justice and Delinquency Prevention Act Made by the Juvenile Justice Reform Act of 2018. The publication describes the major components of JJRA, including the effective application date, definition of terms, annual reporting requirements, state allocations, state plan requirements, and the status of funds not allocated due to state noncompliance.
Video recordings of the training conference's opening day and OJJDP interviews with individual participants will be available soon on the OJJDP website.