On October 1, 2019, OJJDP unveiled a redesigned website at a new web address: ojjdp.ojp.gov. The site offers a modern look and feel as well as enhanced technology to provide stakeholders with direct access to the latest information and news about OJJDP and its programs, blogs, publications, videos, trainings, and more. OJJDP redesigned the website with the support of the Office of Justice Programs' (OJP's) Office of the Chief Information Officer.
The new website provides stakeholders with a simplified and more user-friendly experience: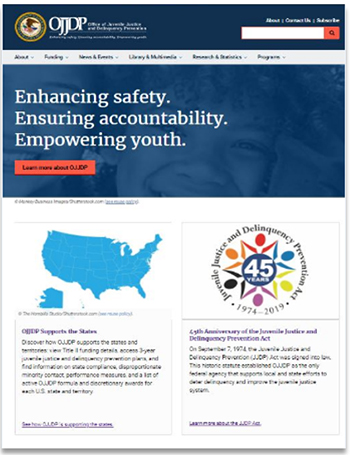 Technological Improvements
Improved search. For the first time, the OJJDP website offers robust, state-of-the-art global search capabilities. Visitors can search by keyword and narrow search results by type of information, such as funding and awards, programs, events, publications, and multimedia. Search results can be sorted by date or relevance. Many webpages allow visitors to search within the page content or use filters to find exactly what they need.
Web design. A simplified and modern design and layout for the OJJDP website takes advantage of design elements from the U.S. Web Design System and is compliant with Section 508 of the Rehabilitation Act, ensuring that information on the site is accessible to everyone.
OJP family of websites. The OJJDP website redesign closely follows the recent redesign of the National Institute of Justice's website. The upcoming redesign of all OJP bureau and program office websites will feature common web designs and leverage shared technologies, so visitors can go to various OJP websites with ease.
Device friendly. The responsive site now ensures a successful web experience, whether visitors are accessing the site on a desktop, tablet, or mobile device.
Updated information architecture. Updated site navigation provides direct access to key information.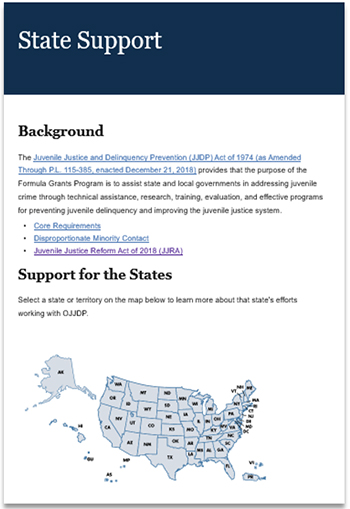 New Web Content
Support for the states. The website now features detailed information about OJJDP's relationship with the states and territories. The state pages focus on Title II Formula Grants funding determinations and reporting in a range of areas, including state 3-year plans, compliance information, and disproportionate minority contact. The pages also provide a listing of all active OJJDP awards for individual states and territories.
Funding awards. Visitors can now find information about grants and cooperative agreements awarded by OJJDP. The information can be searched by award status, state, fiscal year, or keyword.
Multimedia. OJJDP is working to expand the availability of videos and now offers a multimedia page that includes video messages from the OJJDP Administrator, training videos, archived webinars, speeches, and other videos of interest.
OJJDP is committed to providing information to stakeholders in support of its activities and mission. The Office will continue to add new features to the website and welcomes feedback. Provide feedback to OJJDP's Web Content Manager.
Visit the new OJJDP website at ojjdp.ojp.gov.