Stakeholder's Corner: National Gang Center Provides Information and Tools To Help Communities Address Gang Violence
By the National Gang Center Team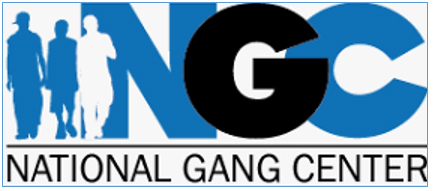 Street gangs have a significant adverse impact on youth and communities across America. Gang activity is a complex social phenomenon that varies by age, degree of gang involvement, and severity of offense. Sustainable solutions must involve comprehensive approaches that contain the spread of gang activity, protect youth who are most susceptible, and hold those engaged in gang violence and crime appropriately accountable. The OJJDP-supported National Gang Center (NGC) is a leading resource for law enforcement agencies, juvenile justice and criminal justice practitioners, policymakers, and community stakeholders seeking solutions to gang violence and crime.
NGC provides training and technical assistance to cities and jurisdictions, both rural and urban, with chronic and emerging gang problems. The center helps communities navigate available gang-related programs, practices, and strategies to select what is most appropriate to address local needs. As a result of their collaboration with NGC, communities increase their capacity to assess the extent of their gang problems, develop strategic plans, and effectively implement gang-reduction initiatives using data-driven solutions.
The center currently maintains the most extensive and up-to-date compilation of gang-related research, publications, evidence-based and promising gang programs, training opportunities, programming tools, and gang legislation available online. Since 2003, NGC has been cataloging gang-related news covering the United States and Canada through the center's Gang-Related News Articles webpage. With more than 46,000 articles, this resource is the most visited page on the NGC website, with an average of 29,500 page views a month. The success of this resource is due in part to the consistency of its daily updates—an average of 10 articles a day. Excerpts and links to articles that are published on the page can be filtered by state or province.

Law enforcement, criminal justice, and other public safety personnel have repeatedly shared how beneficial and crucial NGC's resources are to their jobs. They are able to monitor gang trends both locally and nationally, keep track of arrests and prosecutions, use content for grant proposals, and keep local leadership apprised of trends within their jurisdictions.

—Meena Harris, Director
National Gang Center

Too often in communities where gangs and violence are prevalent, youth see law enforcement as an adversary. NGC's
Gang Resistance Education And Training
(G.R.E.A.T.) program is an effective gang- and violence-prevention program built around a school-based, law enforcement officer-instructed classroom curriculum. The program aims to "immunize" children in elementary and middle school against delinquency, violence, and gang membership through an emphasis on positive decisionmaking, participation in the community, and strong, positive relationships between youth and law enforcement. Beginning in 1991, more than 2,700 law enforcement agencies have delivered the G.R.E.A.T. curriculum; since that time, more than 13,000 certified officers have taught an estimated 7 million elementary and middle school students.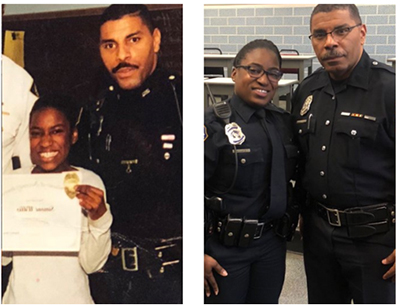 G.R.E.A.T. instructor Robert Henderson of the Indianapolis Metropolitan Police Department (IMPD) impacted one of his students, Samone Willis, in a way that set her on a life-changing path. Shown on the left are Officer Henderson and Samone in the late 1990s, when Henderson visited her school to teach the G.R.E.A.T. curriculum. Inspired by Henderson, Samone decided to pursue a career in law enforcement. She is now a police officer with IMPD (see photo at right).
Photos courtesy of Indianapolis Metropolitan Police Department and Aaron Cantrell.
NGC's Law Enforcement Anti-Gang Training series offers instruction on basic and advanced gang investigations and gang unit supervision, as well as seminars for law enforcement chief executives. The classes are provided on a regional basis and include participants from all law enforcement agencies within a geographical region. More than 4,700 law enforcement officers throughout the United States have received training to identify and counter violent and criminal gang-related activities.
Community-based training topics include the OJJDP Comprehensive Gang Model, which provides a framework for coordinated action that improves a community's capacity to prevent youth from joining gangs and reduce street gang violence and crime. More specialized training and technical assistance is available on request.
Resources:
Information and resources for assessing community gang problems and implementing intervention, prevention, and suppression strategies are available on the National Gang Center website.
Watch "Why Youth Join Gangs," a video that shares insights from researchers and practitioners as well as young people who were previously involved in gangs on the risk factors and behaviors associated with joining a gang.
The recently released Gangs in Schools offers schools and law enforcement sound practices and collaborative techniques to identify, assess, and address gang activity in the school setting.
Parents' Guide to Gangs provides parents with answers to common questions about gangs to enable them to recognize and prevent gang involvement.