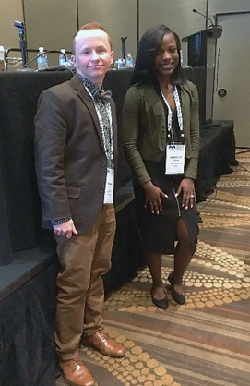 Kendan Elliott, Youth Collaboratory's Technical Assistance Manager, and Dashamir Pettway, Youth Catalyst Team Consultant, at the OJJDP-supported
National Mentoring Summit,
held on January 30–February 1, 2019.
By Kendan Elliott, Technical Assistance Manager, Youth Collaboratory
Youth Collaboratory, with funding from OJJDP and in partnership with the Center for Combating Human Trafficking (CCHT) at Wichita State University (Kansas), provides training and technical assistance to organizations that are working with young victims of commercial sexual exploitation and domestic sex trafficking.
Our goal is to increase the capacity of providers to identify and enroll youth who are in need of services, develop mentoring service models and training that address the needs of these youth, and enhance strategies for recruiting and maintaining mentors. Youth Collaboratory and CCHT also share best practices for working with survivors, both with the grantee community and youth service providers nationwide.

It is inspiring to see young individuals from different walks of life, cultures, and identities coming together with a dedication to modify systems, programs, and projects to meet the needs of youth and young adults. Every day is a learning experience with the Youth Catalyst Team.
—D.T., Youth Catalyst Team member
In implementing this project, Youth Collaboratory and CCHT recognized a need for training and technical assistance to be informed by young people who have direct experience navigating systems and services. With support from OJJDP, in 2018 we launched the Youth Catalyst Team, a national leadership development opportunity for young people ages 16–24. Different from many youth leadership initiatives, members are never asked to share "their story" or disclose personal experiences. Through this initiative, team members operate as paid consultants, using their knowledge, skills, and direct understanding of systems and services to improve program practices and effect systems change.
The Youth Catalyst Team is still a new effort, but it is already having a powerful impact on the work to prevent and end youth trafficking, abuse, exploitation, homelessness, and system involvement, and to increase positive outcomes for young people. The youth leaders are skilled at identifying strengths, gaps, barriers, and solutions in programs as a result of their own firsthand experience. Youth Collaboratory and CCHT have found that partnering directly with these young people and leveraging their expertise strengthens the training and technical assistance we offer and the resources we develop.
Following are examples of projects and activities in which youth leaders have played a pivotal role:

My experiences as a young leader have taught me a lot about the way I work and what my passions are. Sharing my experience and perspective about what works and does not work for young individuals gives me a sense of hope for the future. But the importance of this goes well beyond my own development. Agencies working with youth and young adults are more successful when there is a youth leadership group sharing their insights and experiences.
—D.T., Youth Catalyst Team member
In addition to the team's impact in the youth services field, team members report experiences of personal growth and professional development through their participation. Youth Collaboratory and CCHT have provided training for youth leaders on best practices in mentoring and effective approaches for working with survivors of commercial sexual exploitation and trafficking, among other related topics. Some youth have also had the opportunity to attend workshops at national conferences and other trainings to gain new skills, knowledge, and experiences that they will continue to build on in their own lives.
Youth Collaboratory and CCHT are expanding the Youth Catalyst Team in 2019. We're looking forward to welcoming new members and continuing to work in partnership with young leaders to continue enhancing the training and technical assistance provided in this project, and to develop training, tools, and resources to impact the broader youth services field. We appreciate the support of OJJDP in this important initiative.