First Lady Hosts Meeting of Interagency Working Group on Youth Programs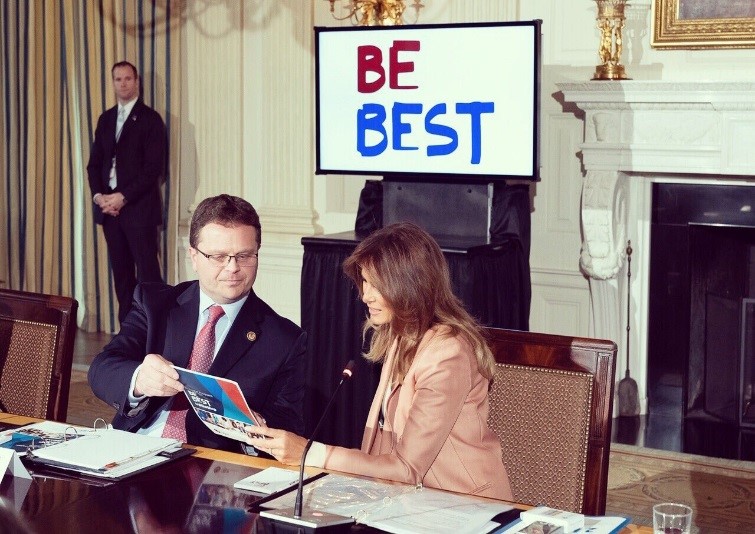 Principal Deputy Assistant Attorney General Matt Dummermuth presents First Lady Melania Trump with a publication describing OJJDP programs that promote the safety and well-being of children and families.
On March 18, 2019, Principal Deputy Assistant Attorney General Matt Dummermuth participated in a White House roundtable meeting of the Interagency Working Group on Youth Programs. The working group is composed of representatives from 20 federal departments and agencies that support programs and services focusing on youth. OJJDP Administrator Caren Harp also attended the meeting.
Hosted by First Lady Melania Trump, the meeting focused on federal programs that closely align with the three pillars of Mrs. Trump's BE BEST initiative: the well-being of children, social media safety, and families affected by opioid abuse. The event included formal presentations by Alex Azar, Secretary of the Department of Health and Human Services; Ben Carson, Secretary of the Department of Housing and Urban Development; and Betsy DeVos, Secretary of the Department of Education.
Seated next to the First Lady, Principal Deputy Assistant Attorney General Dummermuth shared a publication describing OJJDP programs that foster child well-being, Internet safety, and substance abuse prevention and intervention. These programs include support of youth mentoring, anti-bullying efforts, the National Center for Missing & Exploited Children, the Internet Crimes Against Children Task Force program, the Opioid-Affected Youth Initiative, and juvenile and family drug courts.
OJJDP Administrator Discusses Juvenile Justice Reform Act at National Association of Counties Conference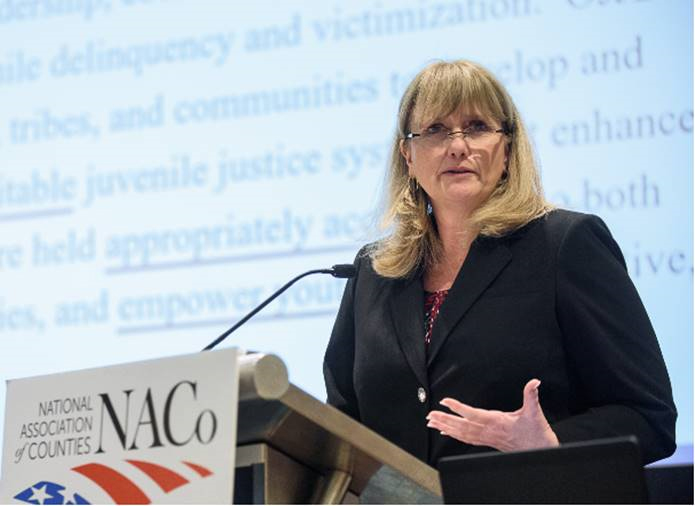 Administrator Caren Harp addresses members of the National Association of Counties' Justice and Public Safety Policy Steering Committee. Photo by Denny Henry.
During remarks at the National Association of Counties (NACo) Legislative Conference on March 2, 2019, Administrator Caren Harp highlighted key provisions of the Juvenile Justice Reform Act (JJRA) of 2018. Her remarks were delivered at a meeting of NACo's Justice and Public Safety Policy Steering Committee.
JJRA provisions include an increase in the minimum allocation to states participating in the Formula Grants program, the addition of program areas states may support with formula grant funds, and new protections for youth who are charged and tried as adults. The Act has also added more stringent requirements for detaining low-level, nonviolent offenders who have violated a court order. In addition, states must now describe an "effective" system of monitoring for compliance with the Juvenile Justice and Delinquency Prevention Act's core requirements. The word "effective" is not defined, and Administrator Harp said OJJDP will promulgate a rule to define an effective monitoring system.
Administrator Harp also discussed the Office's fiscal year 2018 funding—which encompassed more than 290 awards totaling more than $288 million—as well as OJJDP and National Gang Center publications and resources.
NACo's annual legislative conference brings together nearly 2,000 elected and appointed county officials to focus on federal policy issues that impact counties and their residents.
Videos Offer First-Hand Feedback From Participants in Core Requirements Training
Juvenile justice specialists, compliance monitors, and disproportionate minority contact (DMC) coordinators who participated in OJJDP's November 2018 Core Requirements Training for States share their experiences related to the Title II Formula Grants program in a series of videos available on the OJJDP website.
OJJDP's Formula Grant funds help states address juvenile delinquency and support improvements to the juvenile justice system. The funds also help states address deinstitutionalization of status offenders, separation of juveniles from adult inmates, removal of juveniles from adult jails and lockups, and the reduction of DMC in the juvenile justice system. In the videos, state representatives offer feedback on the following questions:
What issues are you experiencing in your state surrounding core requirements/protections?
How has OJJDP helped you achieve your state's Title II and/or compliance program goals?
In addressing Title II and/or compliance issues in your state, what were your expectations and main takeaways from this conference?
Visit OJJDP's new Core Requirements Training for States webpage.
National Children's Advocacy Center Hosts International Symposium on Child Abuse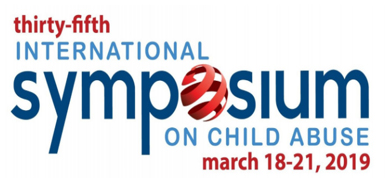 On March 18–21, 2019, the OJJDP-supported National Children's Advocacy Center (NCAC) hosted the annual International Symposium on Child Abuse in Huntsville, AL. Since 1985, NCAC has trained more than 138,000 child abuse professionals from all 50 states and 113 countries on how to recognize and support maltreated children.
Associate Administrator James Antal attended the conference with other staff in OJJDP's Special Victims and Violent Offenders Division. "The CAC model for helping child abuse victims and their families works because it is a multidisciplinary approach," said Mr. Antal. "CACs bring together professionals in medicine, law enforcement, prosecution, and child protective services into one coordinated team. At the symposium, we were honored to interact with many of the practitioners working every day to help child abuse victims and their families."
In fiscal year (FY) 2018, OJJDP awarded nearly $10 million to fund local child advocacy centers, state chapters, and multidisciplinary teams that investigate and respond to child abuse. The Office also awarded $4.8 million to support continued operations at four regional centers. In FY 2018, the centers offered onsite technical assistance and indepth training on forensic interviews, victim advocacy, multidisciplinary teams, and vicarious trauma, among other topics.
National Missing Children's Day Ceremony To Be Live Streamed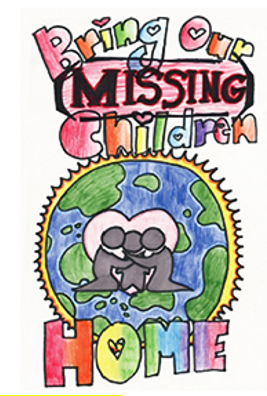 The Department of Justice's commemoration of National Missing Children's Day will take place on May 22, 2019, in Washington, DC. The annual event, organized by OJJDP, honors the memory of missing children and recognizes extraordinary efforts made by law enforcement personnel and private citizens to protect children from harm.
Awards to be presented this year include the Attorney General's Special Commendation, Missing Children's Law Enforcement Award, Missing Children's Child Protection Award, and Missing Children's Citizen Award. The winner of the National Missing Children's Day Poster Contest will also be recognized. The contest is intended to promote awareness and encourage teachers, parents, guardians, and other adults to engage children in discussions about safety.
The ceremony will be live streamed. To access the live stream, go to the OJJDP homepage at 2 p.m. on May 22. The recording will remain available online.
New Data Snapshot on Arrests of Older Juveniles and Young Adults Now Available on the Statistical Briefing Book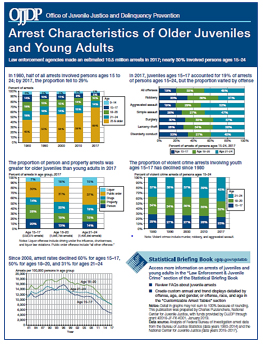 A new Data Snapshot in OJJDP's Statistical Briefing Book focuses on the characteristics of arrests of older juveniles (ages 15–17) and young adults (ages 18–24) and compares arrest rate trends between 1980 and 2017. In 1980, half of all arrests involved persons ages 15–24; by 2017, the proportion fell to 29 percent. Since 2008, arrest rates declined 60 percent for ages 15–17, 50 percent for ages 18–20, and 31 percent for ages 21–24. In 2017, juveniles ages 15–17 accounted for 19 percent of arrests of persons ages 15–24, but the proportion varied by offense. The proportion of violent crime arrests involving youth ages 15–17 has declined since 1980.
Office of Justice Programs' Blog Highlights School Safety Final Report
The Office of Justice Programs (OJP) has posted a new blog discussing the Federal Commission on School Safety's final report, which provides federal resources and recommendations for preventing violence in schools. The report highlights OJP resources that are available to help states and local communities implement school safety initiatives. The resources cited include OJJDP's I-Guide on school-based bullying prevention. The blog also highlights the nearly $47 million in OJP grants made available through the STOP School Violence Act of 2018 to support school violence prevention programs. See OJJDP's Model Programs Guide to learn about programs promoting school safety.
OJJDP Webinar Discusses Trauma-Informed Policing
On March 18, 2019, OJJDP, in collaboration with the International Association of Chiefs of Police (IACP), presented "Building Trauma-Informed Police Responses in Your Agency: Training and Tools." This webinar provided an overview of trauma-informed policing for officers, law enforcement agencies, and communities. Presenters described the phenomenon of trauma, shared data about traumatic exposure, and introduced online training and tools developed by IACP and Yale with support from OJJDP to help agencies build trauma-informed responses. The webinar recording is available online.
New Issue of The AMBER Advocate Available
The AMBER Alert Training and Technical Assistance Center has released a new issue of The AMBER Advocate. The top story describes the importance of training law enforcement first responders to promote readiness from the first report of an endangered, missing, or abducted child. In addition, the issue offers a profile of New Hampshire's AMBER Alert coordinator and a special feature on how an Ohio AMBER Alert brought a child home safely.
The AMBER Advocate is produced through a cooperative agreement with OJJDP.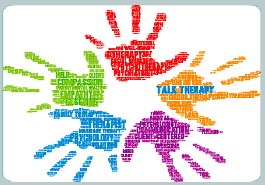 National Gang Center Blog Discusses Study on Reducing Youth Gang Membership and Delinquency
The National Gang Center has posted a new blog examining a study cosponsored by OJJDP and the National Institute of Justice on reducing youth gang membership and delinquency among gang-involved youth. The study evaluated a trial modification of the Functional Family Therapy (FFT) model on youth from the Philadelphia Juvenile and Family Court. The study found that the FFT model was effective for reducing delinquency, substance use, and recidivism for youth at high risk for gang membership.