All OJJDP publications may be viewed and downloaded on the publications section of the OJJDP website. Print publications may be ordered online at the National Criminal Justice Reference Service website.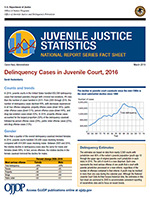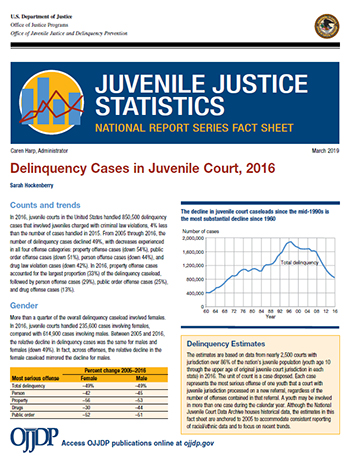 Delinquency Cases in Juvenile Court, 2016 (Fact Sheet, National Report Series)
NCJ 252473
This fact sheet presents national estimates of delinquency cases handled by juvenile courts in 2016 and analyzes caseload trends since 2005. In 2016, juvenile courts in the United States handled 850,500 delinquency cases that involved juveniles charged with criminal law violations, 4 percent less than the number of cases handled in 2015. From 2005 through 2016, the number of delinquency cases declined 49 percent, with decreases experienced in all four offense categories: property offense cases (down 54 percent), public order offense cases (down 51 percent), person offense cases (down 44 percent), and drug law violation cases (down 42 percent). In 2016, property offense cases accounted for the largest proportion (33 percent) of the delinquency caseload, followed by person offense cases (29 percent), public order offense cases (25 percent), and drug offense cases (13 percent). The estimates are based on data from nearly 2,500 courts with jurisdiction over 86 percent of the nation's juvenile population in 2016.
View and download this publication.