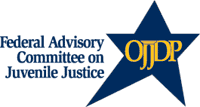 OJJDP has restructured the
Federal Advisory Committee on Juvenile Justice
(FACJJ) to enable the Office to better meet its mandate of responding to states' concerns and addressing emerging issues in the juvenile justice field. The streamlined committee, which held its first meeting on March 22, 2019, consists of 14 state advisory group (SAG) members who represent diverse perspectives, subject-matter expertise, and geographic locations. At the meeting, members elected Joseph Vignati as the FACJJ Chair and Melanie Shapiro as Vice Chair.

OJJDP leadership and staff gathered for a group photo with FACJJ members at the committee's March 22, 2019, meeting. Back row from left to right: Judge David Hejmanowski, Kenneth Tramble, Tiffany Wilkerson-Franklin, Corey Haines, Korey Solomon, Anthony Pierro, Adolphus Graves, and Tina Borner. Front row from left to right: Thomas Rose, Judge Thomas Frawley, Elizabeth Wolfe, Melanie Shapiro, Kathryn Richtman, Richard Thompson, Michael Arrington, Chyrl Jones, and Caren Harp.
Following are brief biographies of FACJJ members:
Michael Arrington, a managing partner of the law firm Parkowski, Guerke & Swayze, has chaired the Delaware Juvenile Justice Advisory Group for the last 15 years. He was a FACJJ member from 2005 to 2008. From 1992 to 2000, Mr. Arrington worked as Director of Special Court Services for the Family Court of the State of Delaware. His professional affiliations include the Juvenile Crime Enforcement Coalition, Smart on Juvenile Justice Advisory Committee, and Children's Trust Fund. Mr. Arrington received the Delaware State Bar Association Outstanding Service to the Courts and Bar Award in 2009 and the Delaware State Judiciary Award of Special Merit in 2005. He earned a bachelor's degree in biology from St. Joseph's College, a master's degree in educational administration from Villanova University, and a law degree from the Widener University School of Law.
Thomas Frawley is a senior judge who has served as presiding judge in Missouri's 45th Judicial Circuit, where he handled civil, criminal, and family law proceedings. He also served as a circuit judge in the 22nd Judicial Circuit, where he was assigned to family court and the juvenile division. In that division, Judge Frawley was responsible for all juvenile court proceedings (i.e., care and protection, delinquency, termination of parental rights, and adoption). He implemented the Juvenile Court Improvement Project, designed to decrease the amount of time children spend in foster care and improve outcomes for children and youth. Among other activities, Judge Frawley is currently a member of the Missouri Juvenile Justice Advisory Group and the Missouri State Foster Care and Adoption Board. He earned a bachelor's degree in political science from Hamilton College and a law degree from the University of Missouri Law School (Columbia).
Adolphus Graves is Director of Probation Services in Fulton County (GA) Juvenile Court. Previously, he served as chief probation officer as well as chief of staff in Clayton County Juvenile Court. Among his many affiliations, he is a member of the Georgia Juvenile Justice State Advisory Group, Juvenile Court Association of Georgia, National Association of Court Managers, American Probation and Parole Association, National Criminal Justice Association, and American Corrections Association. He received a bachelor's degree in sociology with a criminal justice concentration from Morehouse College and a master's degree in criminal justice with a public administration concentration from Liberty University.
Corey Haines, Deputy City Manager and Chief of Police for the City of Madison Heights (MI), has been a member of Michigan's SAG since 2018. Previously, Mr. Haines also served as deputy chief of police, police lieutenant, police sergeant, and as a police officer. Among many other activities, he is a member of Michigan's Juvenile Justice Task Force, the International Association of Chiefs of Police, the Michigan Association of Chiefs of Police, the Oakland County Chiefs of Police Association, and the Madison Heights Crime Commission. He received a police academy state certification from Delta College, a bachelor's degree in criminal justice with a minor in public administration from Saginaw Valley State University, and a law degree from the University of Detroit Mercy Law School.
David Hejmanowski is a judge in the Delaware County (OH) Probate/Juvenile Court, where he previously served as a juvenile/probate magistrate and juvenile court administrator. He is an instructor at the Ohio Supreme Court Judicial College, where he teaches juvenile and family law, among other topics. He also worked as an assistant prosecuting attorney in the Delaware County Prosecutor's Office. Among other professional activities, Judge Hejmanowski is a member of the Ohio Judicial Conference Juvenile Law and Procedure Committee, the Governor's Council on Juvenile Justice, and the National Council of Juvenile and Family Court Judges' Curriculum Committee. Judge Hejmanowski was chair of the Delaware County Bar Association's Juvenile Committee from 2006 to 2015. He received a bachelor's degree in political science from Hiram College and a law degree from Ohio State University.
Anthony Pierro is Chief Juvenile Attorney in the Ocean County (NJ) Prosecutor's Office, where he previously served as chief of special litigation and director of the Community Relations Unit as well as assistant prosecutor. The New Jersey Governor appointed Mr. Pierro to New Jersey's SAG in 2014. Mr. Pierro is a member of the Center for Juvenile Justice Reform's Juvenile Prosecutors Leadership Network, New Jersey Juvenile Prosecutors Leadership Network, New Jersey Council on Juvenile Justice System Improvement, Ocean County Council on Juvenile Justice System Improvement, and Ocean County Youth Services Commission. He earned a bachelor's degree in criminal justice from Seton Hall University and a law degree from New England Law/Boston.
Kathryn Richtman is Director of the Ramsey County (MN) Attorney's Juvenile Division, which is responsible for the diversion and prosecution of all of the county's delinquency cases. She previously served as assistant Scott County attorney and as a judicial law clerk in the First Judicial District. She is a co-chair of the Minnesota County Attorneys Association's Juvenile Law Committee and a member of the Minnesota Human Trafficking Task Force, the Ramsey County Juvenile Detention Alternatives Initiative, and the Ramsey County Safe Harbors for Youth Planning Committee. Ms. Richtman has served more than 10 years as a member of Minnesota's SAG. She received the Advocates for Human Rights Special Recognition Award in 2012 and the Ramsey County Attorney's Office Special Achievement Award in 2008. Ms. Richtman received a bachelor's degree in Sociology from the University of Minnesota and a law degree from William Mitchell College of Law.
Thomas Rose is a member of the Wyoming State Advisory Council on Juvenile Justice. As a teenager, Mr. Rose had first-hand experience with homelessness and the juvenile justice system. "I have lived on both sides of the juvenile justice system," he said. "I hope to help the Federal Advisory Committee understand the perspective of someone who has been on the other side of that line." Mr. Rose's life was transformed by a Wyoming wilderness program for troubled youth. "As a homeless juvenile with no resources but the street, my life expectancy was short," he said. "Through the intervention of a number of mentors, I turned my life around. I now give back to juveniles because I understand the necessity of a mentor. They need someone who has walked on a parallel path."
Melanie Shapiro is Director of Juvenile Justice Policy for Maryland's Office of the Public Defender, where she previously served as chief attorney and supervising attorney in the Baltimore City Juvenile Division. As director, she represents the Office during the Maryland legislative session and in joint efforts to improve the juvenile justice system, including participation in Maryland's SAG, the Work Group to Study Safe Harbor Policy for Youth Victims of Human Trafficking, and the School to Prison Pipeline Commission. She has also developed trainings and policies for the Office's juvenile defense practice. Ms. Shapiro most recently served on FACJJ from 2016 to 2018. She received a bachelor's degree in government with a minor in religious studies from Franklin & Marshall College and a law degree from the University of Maryland School of Law.
Korey Solomon, a licensed social worker, has led Northstar In-Home Support Services since the company's inception in 1997. Based in Kimberly, ID, the organization currently provides all after hours and weekend services in cases involving child abuse for the eastern half of Idaho, under a contract with the Department of Health and Welfare. Mr. Solomon also manages and implements state and county contracts focused on family preservation, juvenile probation, and juvenile corrections. He previously served as a family preservation consultant at the Idaho Youth Ranch, where his work focused on families involved in the child protection and children's mental health systems. He has been a member of the State of Idaho Juvenile Justice Commission since 2014. Mr. Solomon earned a bachelor's degree in social work from Idaho State University.
Richard Thompson is serving his second term on the North Carolina Juvenile Justice Planning Committee (SAG) and previously served as committee chairman. During this time, he coordinated a panel discussion with statewide stakeholders in juvenile justice, education, law enforcement, and the courts to create innovative ways to improve school safety and standardized training for school resource officers and school personnel. In addition, Mr. Thompson created an orientation process for new SAG members, including an orientation manual. He retired in 2015 from a 30-year career with the North Carolina Adult Probation/Parole Department. Mr. Thompson earned associate degrees in business administration and liberal arts from Emmanuel College (Georgia) and a bachelor's degree in sociology with a minor in psychology from the University of North Carolina, Charlotte.
Kenneth Tramble is Deputy Sheriff in the Ouachita Parish (LA) Sheriff's Department, where, among other activities, he coordinates an afterschool mentoring program for at-risk youth, called Deputies for Change. The program serves elementary- and middle-school children throughout Ouachita Parish. His other professional experience includes work as a youth investigator for the Louisiana State Department of Corrections, an undercover agent for a metropolitan narcotics unit, and an internal affairs investigator with the Louisiana Department of Public Safety and Corrections. Mr. Tramble has 12 years of military experience, including service as a staff sergeant in the U.S. Army. Mr. Tramble is a two-time recipient of the National Defense Service Medal. He received his law enforcement training at the North Delta Police Academy and earned an associate degree in criminal justice from the American College of Technology.
Tiffany Wilkerson-Franklin is Associate Youth Specialist and Program Leader for 4-H Youth Development at Southern University's Agricultural Research and Extension Center. Among other activities, Dr. Wilkerson-Franklin codirects a research project on economic development models in distressed communities in Louisiana; serves as principal investigator on a study of the 4-H LIFE mentoring program for children with incarcerated parents; and coordinates the university's Second Chance 2 Recover program, which aims to strengthen families experiencing incarceration. Dr. Wilkerson-Franklin was appointed to Louisiana's SAG in 2017. She received a bachelor's degree in therapeutic recreation and leisure studies and master's and doctoral degrees in public administration from Southern University A&M College.
Joseph Vignati is Assistant Commissioner/Chief of Staff at the Georgia Department of Juvenile Justice, where his previous service included work as deputy commissioner. In his earlier years at the Department of Juvenile Justice, Mr. Vignati developed a continuum of privatized alternative services for youth detained in Fulton and Dekalb Counties. From 2008 to 2014, he worked as administrator of the Justice Division at the Governor's Office for Children and Families. Mr. Vignati also served as deputy director and grants monitor for the Children and Youth Coordinating Council. His grants work included oversight of 65 state and local grant-funded projects. His term as a SAG member began in 2016. Mr. Vignati received a bachelor's degree in political science from Augusta University and a master's degree in public administration from Georgia State University.
The Federal Advisory Committee on Juvenile Justice is a consultative body established by the Juvenile Justice and Delinquency Prevention Act of 1974, as amended (Section 223), and is supported by OJJDP. Composed of members of state advisory groups on juvenile justice, the committee advises the President and Congress on matters related to juvenile justice, evaluates the progress and accomplishments of juvenile justice activities and projects, and advises the OJJDP Administrator on the work of OJJDP.