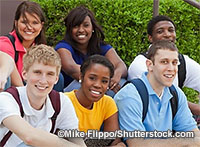 Since its establishment in 1974, OJJDP has provided national leadership to support federal, state, tribal, and local efforts to prevent delinquency, strengthen the juvenile justice system, and protect children from violence, abuse, and exploitation. OJJDP is the only federal agency with a specific mission to develop and disseminate knowledge about what works in the juvenile justice field.
In fiscal year (FY) 2018, OJJDP awarded approximately $300 million in grant funding to prevent juvenile delinquency and recidivism, address youth substance abuse, reduce gang violence, and support law enforcement investigations of cases involving children's exposure to violence, exploitation, and crime. The awards were made through discretionary and formula grant funding.
OJJDP awarded approximately $257 million in discretionary grants in FY 2018. About $83 million was awarded to develop or enhance mentoring programs and services nationwide. Under its Mentoring Opportunities for Youth initiative, the Office awarded more than $77 million to 36 organizations in 21 states. This program supports the delivery of mentoring services to youth who are at high risk for juvenile delinquency and juvenile justice system involvement. This year, two categories of awards were specifically targeted to mentoring strategies for youth impacted by the opioid epidemic.
In further support of the Justice Department's priority to combat the abuse of opioids and other drugs, OJJDP awarded more than $23 million to provide services to youth impacted by the opioid crisis, and to fund family and juvenile drug courts. The awards included more than $7 million under the Opioid-Affected Youth initiative, which provides assistance to states, local governments, and tribal jurisdictions in developing data-driven responses to opioid abuse. OJJDP awarded more than $12.9 million across 20 awards to 15 jurisdictions under its Drug Treatment Courts program. The program seeks to build the capacity of state, tribal, and local drug court programs for youth in the justice system with substance abuse problems, specifically those related to opioid abuse, as well as youth with co-occurring mental health disorders. Supplemental funding of $800,000 was awarded to continue operating the National Gang Center, which provides leadership, information, training, and technical assistance on comprehensive, community-based anti-gang initiatives.
OJJDP works to help youth who are reentering their communities after confinement to become law-abiding, contributing members of society. More than $13 million was awarded to support jurisdictions and provide funding to researchers to supplement reentry services for detained youth and incarcerated parents with children younger than 18. Most of the funding was awarded through OJJDP's Second Chance Act Addressing the Needs of Incarcerated Parents With Minor Children program and the Office's Second Chance Act Ensuring Public Safety and Improving Outcomes for Youth in Confinement and While Under Community Supervision program.

In FY 2018, OJJDP awarded more than $28 million to the National Center for Missing & Exploited Children. The center offers critical intervention and prevention services to families and supports law enforcement agencies at the federal, state, and local levels in cases involving missing and exploited children.
An additional $7 million funded initiatives to improve the response to child and youth trafficking victims; provide specialized services and mentoring for child victims of sex trafficking; and offer training and technical assistance to prosecutors, state and local law enforcement, child protection personnel, medical providers, and other child service professionals to strengthen the overall response to missing and exploited children's issues, including child sex trafficking.
The Office awarded more than $29 million to support the Internet Crimes Against Children (ICAC) Task Force program. Of that amount, $23 million will fund the national network of 61 multiagency, multijurisdictional ICAC task forces. These task forces conduct forensic examinations and investigate and prosecute technology-facilitated child sexual exploitation throughout the United States.
The Department of Justice and OJJDP are committed to promoting positive youth development strategies that build on the traditions and cultural heritage of American Indian and Alaska Native communities. In FY 2018, OJJDP awarded more than $7.2 million to tribal initiatives to help youth address alcohol and drug abuse, stay out of the juvenile justice system, and gain life and leadership skills.
OJJDP's Title II Formula Grants program helps states address juvenile delinquency and support improvements to the juvenile justice system. Formula grant funding also helps states address the core requirements of the Juvenile Justice and Delinquency Prevention Act. In FY 2018, Formula Grants program awards were announced for 48 states, the District of Columbia, and four territories. OJJDP awarded about $43 million through the Formula Grants program.

Resource:
For more information about the Office's awards, visit OJJDP's Funding webpage.