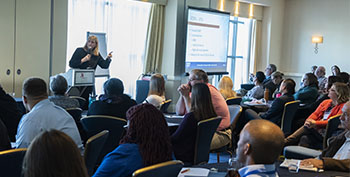 Administrator Harp addresses participants at an OJJDP training for juvenile justice specialists, compliance monitors, and disproportionate minority contact coordinators.
On November 27–30, 2018, OJJDP held a training for juvenile justice specialists, compliance monitors, and
disproportionate minority contact
(DMC) coordinators in the Title II Formula Grants program.
OJJDP's Formula Grants funds help states address juvenile delinquency and support improvements to the juvenile justice system. The funds also help states address the core requirements of the Juvenile Justice and Delinquency Prevention Act (deinstitutionalization of status offenders, separation of juveniles from adult inmates, and removal of juveniles from adult jails and lockups) as well as efforts designed to reduce DMC in the juvenile justice system.
Held in Baltimore, MD, the event featured preconference trainings with special tracks for new compliance monitors and juvenile justice specialists (staff with fewer than 3 years of job experience). Presentations included "Laying a Foundation: The Juvenile Justice and Delinquency Prevention Act, Title II, and OJJDP"; "Roles and Relationships: Juvenile Justice Specialists, Grantees, and States Advisory Groups"; "Voices From the Field: Question and Answer Session with Veteran Juvenile Justice Specialists"; "Dollars and Data: Grant Management and Reporting"; and "The First Three Core Requirements in Depth."

Having my peers and other states share with me what they're doing, and then me sharing what we're doing, that's the beauty of these types of conferences. It's not just what OJJDP is providing, it's giving us the opportunity to network with each other.

—Meg Williams
Juvenile Justice Specialist, Colorado
On November 28–30, OJJDP staff provided more advanced training sessions on compliance monitoring and DMC. The compliance monitoring portion of the training included a presentation on OJJDP's revised definitions of "detain" and "confine," which allow law enforcement to hold youth who may be runaways, abandoned, or homeless until a safe place is found for them without these youth being considered "detained" or "confined." In addition, OJJDP staff reviewed online data collection and reporting systems and discussed strategies for increasing the number of juvenile justice facilities that report data.
In her introductory remarks preceding the DMC portion of the training, Administrator Caren Harp shared information about OJJDP's new outcome-based approach to DMC. Beginning in fiscal year 2019, the State Relations and Assistance Division will implement a streamlined Title II application process that will simplify DMC data collection requirements by reducing the number of contact points for which reporting is required from nine contact points to five. In addition, OJJDP will ask states to identify how they define success with their DMC reduction efforts and to evaluate the outcome of their DMC plans to assess what impact they had, if any, on disproportionality. The presentations that followed offered guidance on developing strategies to collect and report data, establishing an action plan to address DMC, and creating an outcome-based evaluation of DMC reduction efforts.
"The best part of this conference was meeting people who are doing the hard work of helping kids stay out of the court system, and for those who are in the court system, to find their way on to a better path," Administrator Harp said. "It was such a privilege to come alongside them and help them with that, and I thank them for their dedication to this work."
Resources:
Information about the fiscal year 2019 Formula Grants program is available on the OJJDP website.
For an overview of DMC and information about DMC funding and resources, visit the OJJDP website. OJJDP has included a DMC Databook in its Statistical Briefing Book. The DMC Databook enables users to review the processing of delinquency cases within the juvenile justice system.