Staff Spotlight: Will Bronson, Deputy Associate Administrator and Operations Manager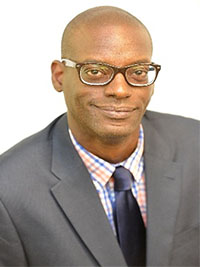 Will Bronson, OJJDP Deputy Associate Administrator and Operations Manager.
Operations Manager Will Bronson currently supervises a team of seven analysts, coordinators, and support staff who are responsible for OJJDP's budget, human resources, performance measures management, and office administration. Staff also serve as liaisons to other Office of Justice Programs support offices, such as the Office of Administration, Office of the Chief Financial Officer, and Office of the Chief Information Officer.
"A major part of our work is budget development and execution, both our program budget for OJJDP grants and interagency agreements, and the operations budget, which supports staff travel, training, and OJJDP contracts," said Will. "In addition, OJJDP's performance measurement system tracks the progress of Office-funded programs to ensure that those programs meet specific goals, objectives, and outcomes. But we're also responsible for the day-to-day operations of OJJDP, and my staff works tirelessly in this area as well—correspondence, time and attendance, space assignment, work order submissions, and workforce management."
Recently, Will was one of two staff members in the Office of Justice Programs (OJP) selected for OJP-sponsored participation in the Senior Executive Fellows Program at the Harvard Kennedy School. The program is a 4-week in-residence professional development program for public-sector executives who wish to sharpen their leadership and managerial skills. "I'm deeply grateful to OJP for giving me this opportunity to broaden my skills and experience," said Will.
Raised in Chesapeake, VA, Will has been with OJJDP since 2009. Before joining OJJDP, Will worked as the Director of Operations for VA Pyxis, Inc., a private human services agency that provides therapeutic treatment services to child-serving agencies throughout Virginia. In addition to his experience in the private sector, Will has more than 10 years of experience in state government working as a juvenile probation officer and then as a program administrator in Virginia.
Will received his bachelor's degree in applied sociology and history from Old Dominion University, a master's degree in project management from Regis University, and a master's degree in business administration from the University of Phoenix (Richmond, VA).