Senior Policy Advisor Moderates Panel on Child Sex Trafficking at Police Conference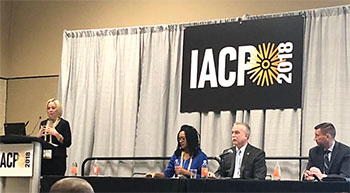 OJJDP Senior Policy Advisor Cynthia Pappas presents during a session on child victims of sex trafficking. She was joined by Cherice Hopkins, a staff attorney at Rights4Girls; Captain Kent Wegener of the Los Angeles County Sheriff's Department Human Trafficking Bureau; and Captain Derek Prestridge of the Texas Department of Public Safety.
OJJDP Senior Policy Advisor Cynthia Pappas coordinated and moderated the workshop "Identifying and Responding to Child Sex Trafficking Victims: Best Practices and Recommendations from the Field" at the
International Association of Chiefs of Police Conference
in Orlando, FL.
The workshop gave law enforcement executives an opportunity to learn about key antitrafficking laws as well as local efforts to help front-line officers better identify, investigate, and respond to child sex trafficking victims. This session highlighted how federal, state, and local agencies are addressing the needs of child sex trafficking victims through advocacy partnerships and innovative policies and practices.
OJJDP Observes National Runaway Prevention Month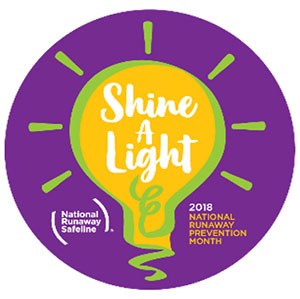 The
National Runaway Safeline
serves as the federally designated national communication system for runaway and homeless youth. The Safeline has a database of more than 9,000 resources to connect youth and concerned parents to local support.
Youth run away or become homeless for many reasons, including abuse, neglect, abandonment, or release from the juvenile justice system back into their communities without having stable housing arrangements. OJJDP remains committed to collaborating with partners to improve information dissemination among local and national stakeholders and improve services provided to these youth.
OJJDP worked with the Bureau of Justice Statistics to collect information directly from youth by adding several questions on youth living arrangements to the National Survey of Youth in Custody. OJJDP anticipates that this information will provide a valuable snapshot of the living arrangements of youth who are entering the juvenile justice system. Through the use of individualized assessments along with reentry and transition planning geared to individual needs, facilities will be able to provide more effective support in transitioning youth to safe and stable housing once they are released from the juvenile justice system.
OJJDP recently published a juvenile reentry toolkit that includes guidance on identifying and addressing a youth's housing needs as part of the transition planning process. For more information on the toolkit, see the article titled "Facts in Focus: OJJDP's Reentry Guide for Youth" in this issue of the newsletter.
To access OJJDP's In Focus page on runaway and homeless youth, visit the Office's website. For information on the National Network for Youth's 2019 Summit on Youth Homelessness, see the Upcoming Events section of the newsletter.
OJJDP's Mentoring Resource Center Launches "Reflections on Research" Podcast Series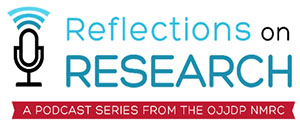 OJJDP's
National Mentoring Resource Center
has launched a
Reflections on Research podcast series
that offers information about the latest research for practitioners, policymakers, and leaders in youth mentoring, along with the practical applications of new research to their work.
Participants will hear directly from the research community as leading scholars discuss their findings and the implications of their work. Each interview examines one or more studies and will help those in the mentoring field understand the key details and main points from complex research projects.
To access the podcasts, visit the National Mentoring Resource Center website.
Grantees Gather for National Tribal Youth Conference
The OJJDP Tribal Youth Training and Technical Assistance Center held its 2018 National Tribal Youth Conference on December 3–4, with the theme "Reclaiming the Sacred Circle: Justice and Healing for Tribal Youth through Prevention, Intervention, and Treatment." The event took place on the reservation of the Agua Caliente Band of Cahuilla Indians in California. The meeting is a national gathering of OJJDP Tribal Youth Program and Juvenile Healing to Wellness Court grantees and other intervention, prevention, and court-based programs serving tribal youth. The conference was coordinated by the Indian Country Child Trauma Center through a cooperative agreement with OJJDP. The multi-track event gave participants the opportunity to engage with experts in the field of tribal juvenile justice and learn about strategies to support and promote safety in tribal communities.
Application Period for Tribal Youth Grants Now Open
On November 30, 2018, the Department of Justice announced the opening of the grant solicitation period for the fiscal year 2019 Coordinated Tribal Assistance Solicitation (CTAS). Included among the solicitation's 10 purpose areas are OJJDP's Juvenile Tribal Healing to Wellness Courts and OJJDP's Tribal Youth Program.
Applications for CTAS are submitted online through the Department's Grants Management System (GMS). Applicants must register with GMS before submitting an application. The application deadline is 9 p.m. EDT, February 26, 2019. Fact sheets detailing each of the individual purpose areas can be found online. Webinars to guide applicants through the CTAS application requirements are scheduled for December 13, December 18, and December 20. Registration information for the webinars is available online.

OJJDP Adds Court Data to Statistical Briefing Book
OJJDP has updated its Statistical Briefing Book to include national estimates of delinquency and petitioned status offense cases processed in juvenile courts through 2016.
Resources include:
Developed for OJJDP by the National Center for Juvenile Justice, the research division of the National Council of Juvenile and Family Court Judges, the Statistical Briefing Book offers easy online access to statistics on a variety of juvenile justice topics.
Model Data Project Supports Enhancement of Data Use by Juvenile Justice Practitioners
The OJJDP
Juvenile Justice Model Data Project
aims to improve the quality and consistency of juvenile justice information and increase its appropriate use in policy and practice decisions by providing guidance to states and jurisdictions on data improvements.
The project has produced a range of guidance materials, including a series of "3D Data Capacity Assessments" that help juvenile justice practitioners examine the data capacity of their juvenile justice system and reflect on their own use of data to inform decisions and drive improvements. The assessments cover infrastructure (the extent to which an agency and juvenile justice system have the underlying technology, leadership, strategic plans, and staff skills necessary to support data-informed practices); data use and dissemination (the extent to which policies and practices promote both the sharing of information and the application of information to decisions); and indicators of juvenile justice system involvement (the extent to which data elements are available to apply model measures of juvenile justice system involvement recommended by the Juvenile Justice Model Data Project).
In addition, the project has issued four briefs designed to enhance data use by juvenile court judges, juvenile correctional administrators, juvenile probation administrators, and law enforcement agencies.
Entries Sought for 2019 National Missing Children's Day Poster Contest
With an annual theme of "Bringing Our Missing Children Home Safely," each year OJJDP invites fifth graders to participate in the Missing Children's Day poster contest. The annual contest creates an opportunity for schools, law enforcement, and child advocates to discuss the issue of missing and exploited children with youth, parents, and guardians and to promote child safety.
Each state hosts its own poster competition, and the winning poster from each state is submitted to OJJDP in a contest to select the national winner. OJJDP invites the child who designed the winning poster, his or her teacher and parents, and the state clearinghouse manager to Washington, DC, to participate in the National Missing Children's Day commemoration in May.
The winning poster serves as the inspiration for the National Missing Children's Day poster and artwork for the following year. View the gallery of posters from previous years. Prospective participants should check with their state contest manager for the submission deadline. The national deadline for states to submit their winning poster is March 5, 2019. The National Missing Children's Day ceremony will be held on May 22, 2019. Contest rules, contact information for state contest managers, discussion materials, and additional information are available in the contest packet.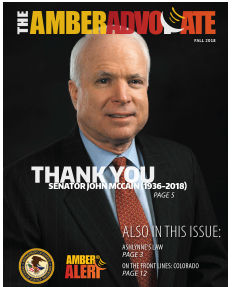 Fall 2018 Issue of The AMBER Advocate Available
The AMBER Alert Training and Technical Assistance Center has released the fall 2018 issue of The AMBER Advocate. The top story describes how the Ashlynne Mike AMBER Alert in Indian Country Act of 2018 is currently being implemented to increase law enforcement coordination as well as create new and expanded resources to protect children living on tribal lands. The legislation was introduced by the late Senator John McCain (R–AZ).
In addition, the issue offers profiles of the Michigan State AMBER Alert Coordinator and Michigan's Missing Person Clearinghouse Manager, and an article about how a Colorado AMBER Alert brought an abducted child home safely. The AMBER Advocate is produced through a cooperative agreement with OJJDP.

Juvenile Court Statistics 2016 Released
The National Center for Juvenile Justice has released Juvenile Court Statistics 2016. The report draws on data from the OJJDP-funded National Juvenile Court Data Archive, describes delinquency cases and petitioned status offense cases that courts with juvenile jurisdiction processed in 2016, and presents trends since 2005. In 2016, courts with juvenile jurisdiction handled an estimated 850,500 delinquency cases and an estimated 94,700 petitioned status offense cases. See OJJDP's Statistical Briefing Book for additional information on juvenile court case processing.