Shock Mentor Program -- Prince George's County, MD
Program Type or Federal Program Source:
Program to change attitudes about guns and violence.
Program Goal:
To reduce violence and high-risk behavior through experiential learning and effective mentoring.
Specific Groups Targeted by the Strategy:
African-American and other minority youth ages 13 to 24.
Geographical Area Targeted by the Strategy:
Prince George's County, MD.
Evaluated by:
Internal data collection.
Contact Information:
George Linnell
Prince George's Hospital Center
3001 Hospital Drive
Cheverly, MD 20785
Phone: 301­618­3858
Willis Mitchell, Chairperson
Washington, D.C., Chapter of Concerned Black Men, Inc.
604 15th Street NE.
Washington, DC 20002
Phone: 202­783­5414
Years of Operation:
1994­present.
---
In response to the high numbers of young African-American males being brought to local hospitals with gunshot wounds and other severe weapon-related injuries, the Prince George's Hospital Center, in collaboration with the Washington, D.C., Chapter of Concerned Black Men, Inc. (a volunteer mentoring group of professional African-American males), and the Prince George's County School Board, developed the Shock Mentor Program. The program incorporates a proactive approach to preventing youth violence by showing at-risk high school students the aftermath of gun violence and other high-risk behaviors. A student is typically identified as at-risk by a teacher based on the neighborhood environment in which the student lives, past experiences of violence in the student's family or community, or his or her association with peers in acts of violence. Some youth are placed in the program by the court system or at their parents' request.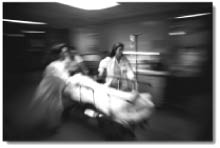 Copyright © 1998 Weststock

The students are brought to the shock trauma center and emergency rooms of the Prince George's Hospital Center to witness the efforts of doctors and nurses to treat gunshot injuries and save lives. They also have opportunities to ride along with police officers and ambulance drivers in Prince George's County to witness the effects that violence has on the community. Each student is matched with and accompanied by a member of Concerned Black Men. When the students return to school, they have an opportunity to share their experiences and impressions with their peers. These activities are complemented by a larger conflict resolution program taught in the county's high schools. Participant roundtables at the schools and a youth-developed conference on violence culminate in youth recommendations to police, health departments, and hospital officials about strategies for preventing or reducing gun violence.

More than 600 students from 19 of the 20 high schools in the public school system have participated in the program over the past 5 years. The majority of the students who have participated indicate that they have found the program to be of great value and they have shared information about their visits to the hospital's emergency room with their peers. Mentors also report that the youth are visibly affected by their experiences in the program.
Promising Strategies to Reduce Gun Violence
OJJDP Report