Profile No. 23
Demonstrated
Targeted Enforcement Program, Indianapolis Weed and Seed Initiative -- Indianapolis, IN
Program Type or Federal Program Source:
Program to deter gun carrying in high-crime hotspot areas; Office of Weed and Seed.
Program Goal:
To reduce drug trafficking and property crime, seize illegal guns, and show strong police presence.
Specific Groups Targeted by the Strategy:
All motor vehicle operators (East Side); suspicious profile vehicle operators (North Side).
Geographical Area Targeted by the Strategy:
High-crime areas in North and East Indianapolis, IN.
Evaluated by:
The Hudson Institute, Indiana University.
Contact Information:
Liz Allison
Indianapolis Police Department
50 North Alabama Street
Indianapolis, IN 46204
Phone: 317­327­3452
Years of Operation:
1995­present
---
The Targeted Enforcement Program uses "directed patrols" to identify firearm offenders. First implemented in 1994 as a modified replication of the Kansas City Gun Experiment, Indianapolis police stop vehicles for traffic violations and, when probable cause exists, search the vehicles for weapons or other contraband. In 1997, the Indianapolis Police Department tested different protocols within the directed patrols strategy. On the East side, officers stopped vehicles for any infraction and issued warnings rather than citations in the majority of instances. On the North Side, the police department replicated the Kansas City model with more fidelity, stopping only those vehicles that were "suspicious" based on a profile and issuing a greater number of citations per 100 stops.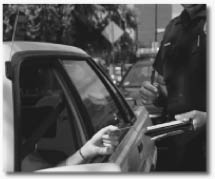 Copyright © 1998 PhotoDisc, Inc.



There were 3,836 stops on the East Side resulting on average in 60.7 warning tickets, 24.5 citations, 14.5 arrests, 1.1 felony arrests, and 0.34 illegal gun seizures per 100 stops. With only 1,417 stops, the North Side produced a lower rate of warning tickets (36.0 per 100 stops) but notably higher rates for citations (49.2); arrests (30.6); felony arrests (2.9); and illegal gun seizures (.85). Gun-related assaults and robberies declined by 40 percent on the North Side while both violent crimes and property crimes increased on the East Side. Because directed patrols had been used for 2 years on the East Side, adaptive behavior by violators may explain this increase. On the North Side, probation sweeps and K­9 patrols also were active during the study period for directed patrols.

The Targeted Enforcement Program is one element of a collaborative, comprehensive strategy implemented in Indianapolis to address escalating violent crime rates. For a more detailed description of targeted patrols and a discussion of how this program fits into the city's overall crime reduction strategy, please see profile 6.
Promising Strategies to Reduce Gun Violence
OJJDP Report