About the Parent Authors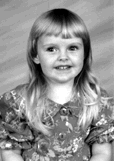 Shelby Cox
Heather Cox and Marion Boburka, mother and grandmother respectively of Shelby Marie Cox, have been strong proponents for missing and exploited children and their families since 4-year-old Shelby disappeared on November 13, 1995. She was playing on the family porch with her older sister and friends. After a 5-day search, Shelby's battered body was found in a neighbor's shed, killed by an 18-year-old boy who later confessed. "Shelby was a joyous child," Heather writes, "who saw the wonders of this world and embraced every one of them. She saw the magic in the clouds, the wonder of a rainbow, the beauty of a flower in bloom. She was full of spunk and mischievousness and laughter. To say we miss her doesn't even come close to how deep our feelings are. Instead, we fight for the children, for Shelby's peers, so that people will learn, and then Shelby's life and death will not have been in vain."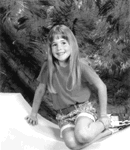 Morgan Nick
Colleen Nick, mother of Morgan Chauntel Nick, has been a spokesperson and champion for missing children and their families since Morgan's abduction on June 9, 1995. Six-year-old Morgan was last seen at 10:45 p.m., while playing at a little league ball game in Alma, AR. She was standing near her mother's car where she had stopped to empty sand from her shoes. Witnesses observed a man watching Morgan as she played with other children. The man was described as white, 6 feet tall, 20 to 40 years old, with black or "salt and pepper" hair. Colleen writes, "You are a wonderful friend, a treasured daughter, a loving big sister, a blessing we cannot live without. We feel cheated every day that goes by and we do not see your smile, hear your bubbly laughter, or listen to your thoughts and ideas. We know that the world was deprived of something very precious and unique when you were taken from us. We have never stopped believing that we will find you. We will never give up hope. Always know that you are loved. Most of all, don't ever give up. We will find you. We promise."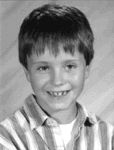 Jimmy Ryce
Don and Claudine Ryce, parents of Jimmy Ryce, have devoted their lives to getting kids home safe. On September 11, 1995, Jimmy was walking home from the bus stop when he was abducted at gunpoint, sexually molested, and murdered. His parents believe he could have been found if bloodhounds had been available. As cofounders of the Jimmy Ryce Center for Victims of Predatory Abduction, Don and Claudine have worked to establish a network of bloodhounds across the country; coordinated a petition drive that resulted in President Clinton's signing of an Executive memorandum requiring that missing children's pictures be posted in Federal buildings and national parks; worked to place missing children's pictures on billboards and in every driver's license renewal packet sent out in Florida; and helped the Dade County School Board implement the Jimmy Ryce Predator Notification Act by sending home with each child pictures of convicted sexual predators living in the county. The Ryces write, "Children are their own last defense against sexual predators. To make children more predator resistant, we are developing a Web site where children can learn how to recognize dangerous situations and how to get away. It takes a lot of imagination and hard work to make our children safer, but we can do it together. Send us your ideas at [email protected]."

Tiffany Sessions
Patrick Sessions, father of Tiffany Sessions, has devoted much of his energy to helping protect other children who may be victimized and providing support and encouragement to their families. Tiffany was last seen on February 9, 1989, at 6 p.m., walking in Gainesville, FL. She was 20 years old and had blonde hair and blue eyes. "It is the hope of the Sessions family," Patrick writes, "that this Guide will be of help to families who may find themselves in the difficult position of searching for a loved one. Although the search for Tiffany has not been successful, many other families' prayers have been answered with the return of their loved ones. Literally thousands of people, both friends and strangers, reached out to help in the search for Tiffany, and those hard-learned lessons are included in this Guide. Our small part in helping prepare this Guide is dedicated to all the people who have helped Tiffany and the other children who have needed their help and support. Thanks to those people, we have the strength and determination to continue our search for Tiffany."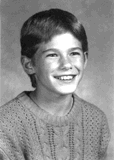 Jacob Wetterling
Patty Wetterling, mother of Jacob Wetterling, has devoted her life to child safety issues. She is a founding member of the board of directors of the Association of Missing and Exploited Children's Organizations, a cofounder of the Jacob Wetterling Foundation, and a member of the board of directors of the National Center for Missing and Exploited Children. Her most recent accomplishments include passage of the Jacob Wetterling Crimes Against Children Registration Act, a Federal law requiring convicted sex offenders to register their place of residence with local law enforcement after release from prison. On October 22, 1989, Jacob was abducted at gunpoint near the Wetterling home and has not been seen since. Patty writes, "I think about you every day and wonder what you would have become had you not been stolen from us. It's so unfair. If you're not alive, we need to know. Someone has been torturing us for far too long. I still look everywhere I go at faces, and I keep asking everyone else to look, too. Sometimes people who were badly victimized forget who they are. I'm still asking the whole world to help. Don't give up your dreams, Jacob. They can still come true if you hope and don't give up. We're still searching for you and we will never quit until we know who did this, what happened, and where you are. Forever and always, I love you."
---
OJJDP Report: When Your Child Is Missing: A Family Survival Guide, May 1998