| | |
| --- | --- |
| OJJDP Bulletins Highlight Education and Youth Development Initiatives | |
OJJDP's Bulletin series addresses a wide variety of topics concerning the well-being of youth in the United States. Each Bulletin provides an overview of a particular area of interest and describes ways that the government and private sectors are addressing the issue. The Bulletins often synthesize a large amount of information in a few pages, highlighting the most salient facts for a broad audience. Recent additions to the Bulletin series include titles that focus on education and youth development initiatives.
Education
Youth who are not in school are more vulnerable to delinquency, drugs, and gangs. A 1992 study by the National Center for Education Statistics found that 3.4 million young people between the ages of 16 and 24 dropped out of school before earning a high school diploma. Local, regional, and national organizations, alone or with Federal Government assistance, are making strides in keeping youth in school and supporting them through graduation and beyond.
Two new OJJDP Bulletins, Keeping Young People in School: Community Programs That Work and Reaching Out to Youth Out of the Education Mainstream, highlight such efforts to keep young people in school or to help those who have left to complete their education.
Keeping Young People in School: Community Programs That Work examines the reasons youth drop out of school and the long-term effects on them and society, then describes a number of programs that have responded to the challenge of working with these youth. The sample of programs described in Keeping Young People in School: Community Programs That Work reflects the diversity of approaches designed to solve this problem.
One such program, Communities In Schools (CIS), which delivers comprehensive services directly to troubled youth, is described in detail, and findings from an evaluation of the program's effectiveness are presented. CIS brings businesses and public and private agencies in communities together with welfare and health professionals, employment counselors, social workers, recreation leaders, the clergy, and members of community groups and puts them where they are needed -- in the schools. A support system of caring adults is brought together in one place to ensure that students have access to resources that can help them build a sense of self-worth and develop the skills to embark on productive and constructive lives.
Reaching Out to Youth Out of the Education Mainstream outlines the Youth Out of the Education Mainstream (YOEM) initiative. With a grant from OJJDP and the U.S. Department of Education's Safe and Drug-Free Schools Program, Pepperdine University's National School Safety Center (NSSC) is helping schools, law enforcement and social service agencies, and juvenile justice systems across the Nation pool their resources and create partnerships to help young people avoid the school-related risks that can lead to delinquent behavior.
YOEM programs include prevention activities (mentoring, conflict resolution, peer tutoring, job training, and afterschool programs) and intervention strategies (school peace officers, alternative schools, teen courts, inschool suspensions, and school-based probation officers). Under the YOEM umbrella, NSSC provides training and technical assistance to school districts, juvenile and family courts, social service agencies, community organizations, and other service providers in 10 YOEM demonstration sites.
Reaching Out to Youth Out of the Education Mainstream outlines innovative YOEM programs and strategies. The Bulletin also examines the many factors that can remove youth from the education mainstream and describes promising approaches designed to address each.
Youth Development
To share new information about child development and delinquency, OJJDP has launched the Youth Development Series (YDS), new Bulletins that will present notable findings from the Program of Research on the Causes and Correlates of Delinquency. The Causes and Correlates program -- three coordinated, longitudinal research projects supported by OJJDP since 1986 -- is the largest shared-measurement approach ever achieved in delinquency research. The research teams in the three study sites -- Rochester, New York; Denver, Colorado; and Pittsburgh, Pennsylvania -- have interviewed 4,000 participants in detail at regular intervals for nearly a decade. The research findings to date indicate that preventing the onset of delinquency requires accurate identification of the risk factors that increase the likelihood of delinquent behavior and the protective factors that enhance positive adolescent development.
The first YDS Bulletin, Epidemiology of Serious Violence, considers four key questions relating to juvenile violence:
| | |
| --- | --- |
| | At what ages are children and adolescents most likely to engage in serious violent behavior? |
| | How does the prevalence of violent juvenile offending vary by gender and ethnicity? |
| | How frequently do violent youth commit offenses? |
| | What portion of youth successfully avoid involvement in violence throughout the course of adolescent development? |
Although findings from the study mirror those of prior research in many ways, three research points were raised that merit further discussion in terms of their implications for violence prevention. First, involvement in serious violent behavior began at a very young age for some of the children in the study sites. Second, serious youth violence is no longer committed only by boys. Third, at the time of the data analysis, boys in the three study sites did not exhibit a decrease in serious violence during their late teenage years.
Another YDS Bulletin, Gang Members and Delinquent Behavior, presents the findings from the Rochester Youth Development Study (RYDS) and discusses the portion of delinquency in American society that can be attributed to gang members. The RYDS found that gang members account for a disproportionate share of delinquent acts, particularly more serious offenses. These results clearly demonstrate the importance not only of preventing youth from becoming involved in gangs, but of intervening with youth who are already gang involved and who are committing delinquent and criminal acts.
This Bulletin also describes OJJDP's balanced approach to the problem of gangs, which includes prevention, intervention, and suppression. The Rochester study's findings reinforce the need for such a comprehensive, coordinated response to reduce delinquency and crimes perpetrated by juvenile gang members.
Future topics in this series will include the short- and long-term effects of childhood maltreatment; a closer look at chronic, violent
juvenile offenders; an examination of developmental pathways to serious delinquency; and adolescent firearms ownership, acquisition, and use.
For More Information
To find out more about the YOEM initiative and the Youth Development Series, contact OJJDP's Juvenile Justice Clearinghouse, P.O. Box 6000, Rockville, MD 20849-6000. The toll-free number is 800-638-8736. The Bulletins highlight resources for more information and assistance. Copies of the Bulletins cited and other Bulletins in the series can be obtained from the Clearinghouse. Copies are also available through fax-on-demand; call the toll-free number, and select option 1 for instructions. All OJJDP Bulletins are available online from OJJDP's World Wide Web site.

Teleconferences Spotlight a Variety of Youth Issues


Through its Juvenile Justice Telecommunications Assistance Project (JJTAP), OJJDP works with Eastern Kentucky University to broadcast a series of teleconferences on a variety of juvenile justice and delinquency prevention issues. Broadcasts in 1997 have included:
| | |
| --- | --- |
| | Youth Gangs in America: An Overview of Suppression, Intervention, and Prevention Programs (March 1997), which features national experts and local program directors of promising gang-reduction initiatives. |
| | Preventing Drug Abuse Among Youth (June 1997), which highlights three proven community-based, family strengthening, and school-based initiatives that are being implemented to empower young people to avoid drug use. |
| | Mentoring for Youth in Schools and Communities (September 1997), which builds on the momentum of the April 1997 President's Summit for America's Future by providing information and resources to develop successful mentoring programs. |
For those who missed the live presentation or want a copy for reference, videotapes of these broadcasts can be purchased from the Juvenile Justice Clearinghouse. See the order form on page 27 to order copies of the latest broadcasts, and contact the Clearinghouse at 800-638-8736 for information on previous broadcasts. More information about the teleconference initiative is also available online at OJJDP's World Wide Web site. This information includes an article from a previous issue of Juvenile Justice, Volume III, Number 1, "Using Satellite Teleconferencing," by Michael A. Jones, Bruce I. Wolford, and F.M. Porpotage II.
If you would like to participate in future teleconferences or have questions regarding the project, contact JJTAP by phone at: 606-622-6671; e-mail at:

[email protected]

; or fax at: 606-622-2333.

OJJDP Online Publications List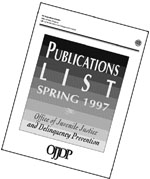 OJJDP's Publications List for spring 1997 is now available online from the publications section of OJJDP's World Wide Web site. The list can easily be searched to identify and order publications on juvenile justice and delinquency prevention issues. Now you can order print publications online through your Web browser or download the full-text electronic versions directly. You can access the publications in a variety of electronic formats (ASCII text, PDF, and/or HTML) or add items to a virtual shopping cart for convenient and efficient ordering of printed materials.
The list will be updated as new publications are released, and enhancements for ordering, including the use of CyberCash for orders requiring payment, will continue to be incorporated. Use the online list and let us know what you think. Direct your comments and ideas for enhancements to the e-mail address below.
In addition to the online version, printed copies of the Publications List for spring 1997 are available from the Juvenile Justice Clearinghouse. Write to JJC at P.O. Box 6000, Rockville, MD 20849-6000; call 800-638-8736; send a fax to 301-519-5212; or e-mail [email protected]. Ask for BC 115.