| | |
| --- | --- |
| Waiting for Justice: Moving Young Offenders Through the Juvenile Court Process | |
Jeffrey A. Butts and Gregory J. Halemba. Pittsburgh, PA: National Center for Juvenile Justice, 1996.
It is said that justice delayed is justice denied. With the increase in delinquency caseloads across America, concern has grown about whether delays in processing delinquency cases are reducing the effectiveness of the juvenile courts. Yet, as Hunter Hurst, director of the National Center for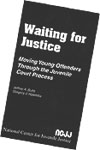 Juvenile Justice (NCJJ), observes, "Despite its obvious importance, the speed of the juvenile justice process has been virtually ignored by researchers."
With the publication of Waiting for Justice: Moving Young Offenders Through the Juvenile Court Process, this is no longer the case. This unique volume reports on OJJDP's Delays in Juvenile Justice Sanctions Project, the first major study of processing delays in the history of U.S. juvenile courts.
While delays in adult criminal courts have commanded more public attention, "processing delays in the juvenile justice system may be uniquely harmful," as the authors of Waiting for Justice note, since "adolescents are known to be socially, emotionally, and even cognitively different from adults." The benchmark findings of OJJDP's study are amply covered in this NCJJ publication.

Recreation Programs that Work for At-Risk Youth: The Challenge of Shaping the Future
Peter A. Witt and John L. Crompton, eds. State College, PA: Venture Publishing, Inc., 1996.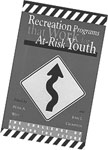 The problems posed by school dropouts, teen substance abusers, youth gang members, and juvenile offenders continue to challenge our Nation. Programs that focus on prevention and intervention are integral to combating delinquency.
The 38 case studies featured in Recreation Programs that Work for At-Risk Youth are derived from a 1995 colloquium convened by the American Academy for Park and Recreation Administration; the National Recreation and Park Association; the Department of Recreation, Park and Tourism Sciences at Texas A&M University; and the Fort Worth Parks and Community Services Department.
Particularly helpful is the editors' citation of common themes reflected by the diverse programs and locales. Major themes emerging from the case studies include the stimuli underlying program initiation, program objectives, the need for collaborative efforts, and the degree of involvement of participants in program planning. Parks and recreation departments willing to go beyond what the editors describe as "fun and games" to return to their roots by serving at-risk youth and their communities would be well served by the information provided in this compendium.